The Top 8 Everhour Alternatives in 2021
Check all these top-rated 8 alternatives to Everhour. Compare them with their features, pros, cons and reviews. Try Apploye as the best Everhour alternatives among them.
You might know Everhour as an advanced and straightforward time tracking software. It helps the time tracking and invoices easy for the freelancers, individual as well as all types of companies.
It helps to ease the time management. Everhour has a smooth time management system with precise accuracy. It serves for time tracking, project and team management, resource planning, expense tracking, and others.
However, it is the urge of technology to know the Everhour alternatives for better and advanced solutions. Let's find out the alternatives to more in-depth research.
What is Everhour?
Everhour focuses mainly on time tracking, invoice, and payroll. It helps you to enhance your team performance. Improve customer relationships by data accuracy, transparency, and liability.
It is effortless and easy to use. It works as a web application or browser extensions and performs accurate tracking and invoicing. Set up the app for clients or projects, add additional information, and start working.
The key features are
Time tracking: Auto timer with manual entry, clock-in, clock-out, timesheet with notes, billable and non-billable time, a reminder.
Reports and dashboard: Customizable reports, project, and member profile, project summary with emails, metadata.
Team management: Time approval, lock time editing, roles, and permission, bulk invite, team groups.
Project management: Task management, alerts, billing, and estimation, Budgets, clients portfolio.
Expense tracking and invoices: Receipts attachment, unit pricing, record payments, copy invoices.
Integrations: Over 15 combinations including Asana, Basecamp, Clickup, etc.
The drawbacks of Everhour
Some flaws might lead you to search for the alternatives of Everhour. Here, I would like to put a disclaimer that all apps have some flaws and drawbacks. It is up to you to negotiate with the faults to get the best outcome of the tools.
One of the major flaws is not having an offline mode to work or a dedicated app for the operating system. Sometimes, you may need to work offline, or the data connection may get disrupted. This may cause inconvenience in work.
You can see the time counts only opening the web page of Everhour. It makes trouble if you want to get an instant overview of your work.
The reporting system is complicated to use.
It is completely sound if you are satisfied with Everhour. If it isn't, go through the rest of the article.
The alternatives to Everhour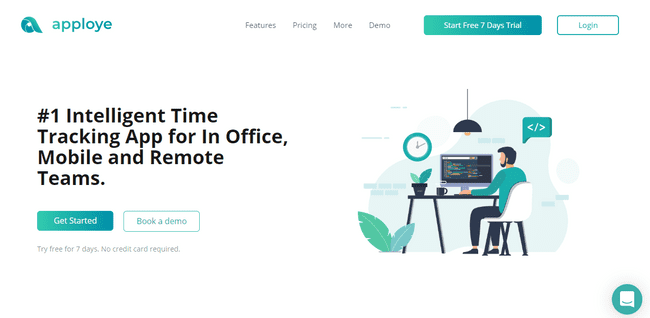 Source: Apploye
Apploye has a super combination of time tracking, employee monitoring, and scheduling. You can monitor your office employees, the mobile team as well as remote workers parallelly. You may use Apploye to log the working hours whenever you work and wherever you belong.
Apploye provides remote teams, big companies, and freelancers a secure platform to optimize productivity, and work progress. The complete package of time tracking and employee monitoring would boost your efficiency, minimize time waste, and add buzz to your workflow.
Key Features
Automatic and offline time tracking, and manual time entry,
Daily time records, weekly preview, and monthly timesheet,
Screenshots, keyboard and mouse movement, apps and URLs tracking,
Employee scheduling, project and task management, and attendance tracking,
GPS location tracker to observe mobile and outdoor employees.
Payroll for hourly payment and one-time payment.
Available in Windows, macOS, Linux, Android, and Chrome extension.
Pros
The app is very simple and has a simple UI. It helps you to line up all your employees from your company.
It has an organized dashboard that gives a brief overview of the necessary updates.
You can get real-time information about the working status and productivity of your workforce.
Try the comprehensive reports on time and activity, payroll updates, apps and URLs tracking, etc.
The price is pretty reasonable that suits every business organizations
Cons
There is no iOS app yet. But it will be launched soon.
You can not export reports for further use.
The integrations are limited.
Pricing
Solo: $4 per month per user.
Standard: $5 per month per user.
Premium: $6 per month per user.
Elite: $7 per month per user.
Reviews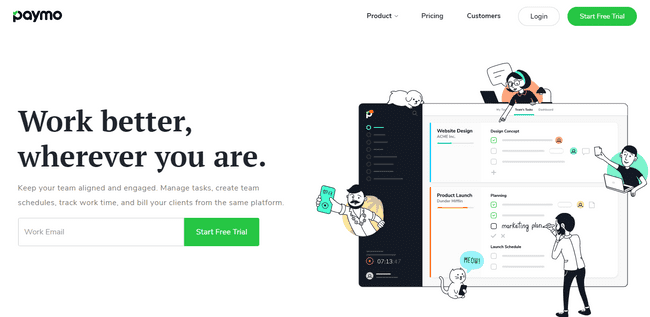 Source: Paymo
Paymo is a work management software offering time tracking, task management, timesheet, invoicing, and others. This cloud-based software is ideal for small and mid-sized business teams, remote workers, and freelancers.
You can save your precious time by balancing the workload and optimize your team without any hassle. Create a healthy environment to work and bring the best outcome for your team.
Key Features
Automatic time tracking, bulk time editing, time clock,
Time reports, user reports, exporting and sharing,
Invoicing, expense tracking, team collaboration with real-time discussion,
Resource management, task management, planning, and scheduling
More than 13 integrations, including Zapier, Slack, Xero, etc.
Available for Windows, macOS, Linux, Android, and iOS.
Pros
The time reports are quite comprehensive
Resource management and team collaboration of Paymo is appreciable.
Adding the bulk time is helpful if you want to add an extended period simultaneously.
Cons
Setting up tasks is a little bit complex.
It does not provide continuous cost tracking for each project.
Customizing invoice format needs simplicity.
This app is tailored for the small teams. It is expensive for a large group.
Pricing
Small office $8.95 per user per month.
Business $14. 25 per user per month.
Reviews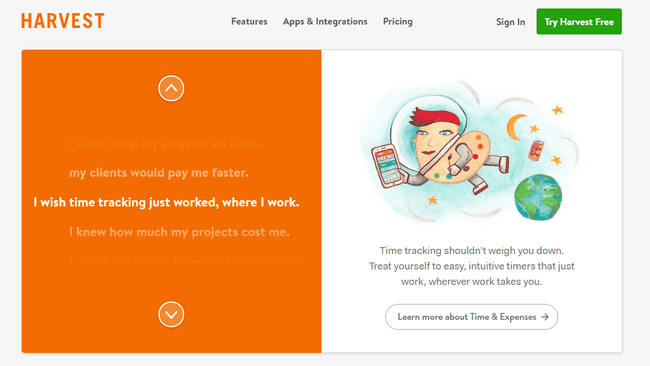 Source: Harvest
Harvest is one of the leading time tracking software and achieves thousands of satisfaction because of some qualities. It has automatic reminders and team scheduling facilities to improve the working procedure. You can follow the project progress, expenses, billable hours, and invoice status.
As per concern for a team, it provides a team dashboard where you may see a comparable time reports of an individual in a group, who works overtime, who needs to improve, and the total billable or non-billable hours of the team.
Key Features
Time tracking and expense tracking with the timesheet,
Timesheet approval, automatic reminders, easy editing,
Project budgeting, progress tracking, invoices, and scheduling,
Over 70+ integrations along with Github, Slack, Trello, etc.
Available for Windows, macOS, Android, iOS, and web extensions.
Pros
It eases the project-based time tracking
It updates its calendar integrations so frequently that you won't miss any schedule.
Expenditure monitoring is precise and useful.
Cons
The UI is a mite complex for the user.
Project management features need modification.
The mobile app needs to be improved.
Pricing
Free for one person with two projects.
Pro costs $12 per user per month
Review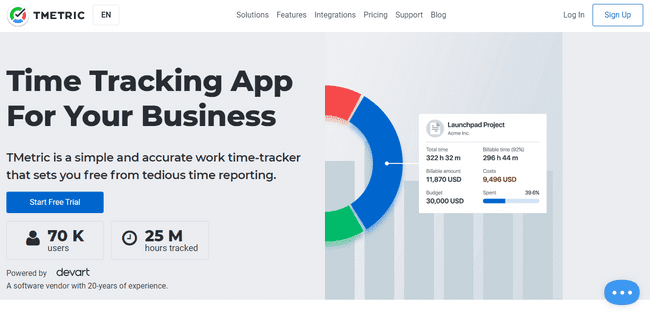 Source: TMetric
TMetric saves you valuable time by providing a smart and accurate time tracking system. You can get extra time to implement in your job rather than monitoring and to supervise your employees.
It provides insightful reports, monitoring systems for your employees, and accurate and easy invoicing. You can add manual time and edit bulk time entries. It also offers idle time detection, tags, and project management.
Key Features
Time tracking, timers, manual entries, and offline tracking,
Timesheet locking, mandatory fields, permission of time tracking,
Apps and URLs tracking, clients logging, project permission,
Integration with Quickbooks, Gitlab, Jira, etc.
Available for Windows, Linux, Android, macOS, and iOS.
Pros
You can use its time and monetary value to make your project budget easy.
The activity level monitoring, screenshots, and attendance tracking are helpful for team management.
It provides an easy client billing system that is effective for the freelancers.
Cons
There is some error in manual time entry.
The timesheet is a little bit difficult to use.
You can not insert the project directly from the extensions.
Pricing
Free for one user.
Professional costs $5 per user per month
Business is $7 per user per month
Reviews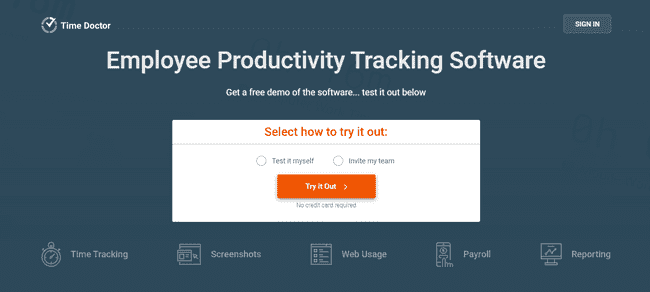 Source: Time Doctor
Time Doctor offers you time tracking facilities and vows you to utilize your workforce efficiently with maximum engagement and better performance. You can get a review on how employees utilize the working time, or where the time waste happens.
It identifies the exact time occupied in each project and task to keep a birds-eye on the project progress and inefficiencies, as a superior in the office. Avoid the hassle of time reporting, monitoring, and payroll of your subordinates.
Key Features
Time tracking, off-track reminders, time use alerts,
Screenshots, chat monitoring, client features,
Reports, web and app usage, payroll,
GPS location tracker, attendance and break tracking,
Over 40+ integrations, including Trello, Salesforce, etc.
Available for Windows, Android, Web, macOS, and iOS
Pros
The productive and non-productive hours identification is easy with real-time records.
Get the Advanced reports and timesheets to mark the productivity perk and loss of every employee.
It notifies the idle employees who are engaged in non-official works.
Cons
The support is not up to the mark. You can face trouble at emergency needs.
The price of Time Doctor is costly.
The mobile app has limited features to use.
Pricing
Basic starts $7 per user per month
Standard is $10 per user per month
Premium is $20 per user per month
Reviews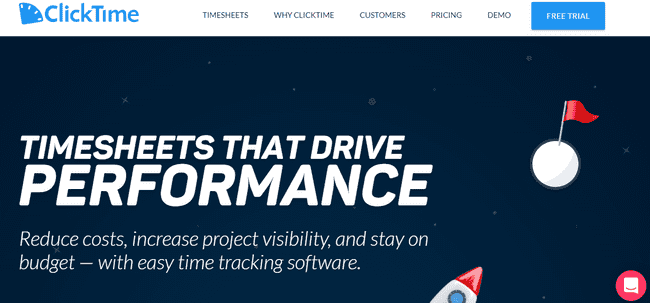 Source: ClickTime
ClickTime aims at increasing the visibility of the project and stick on the budget. Therefore, it provides an easy tracking system to reduce costs, simple timesheet, and real-time monitoring.
It helps plan and manage your business, motivates employees, and brings the best outcome of your organization.
Key Features
Time, expense and overtime tracking,
Employee performance and hours tracking,
Project budget, reports, and estimation,
Over 45+ integrations, including Slack, Sage, Xero, etc.
Available for Android, iOS, and Web.
Pros
Employee permission allows you to control employee access to the sophisticated data of your organization. You can manage the right employees accessing the correct data.
The employee utilization and detailed reports are praiseworthy.
A more natural solution of time off, timesheet approval, and workflow efficiency.
Cons
It is a little bit expensive.
The user interface is complicated.
The visualization of reports needs modification.
Pricing
The starter is $9 per user per month,
The team is $12 per user per month,
The premier costs $24 per user per month,
Enterprise is customizable.
Reviews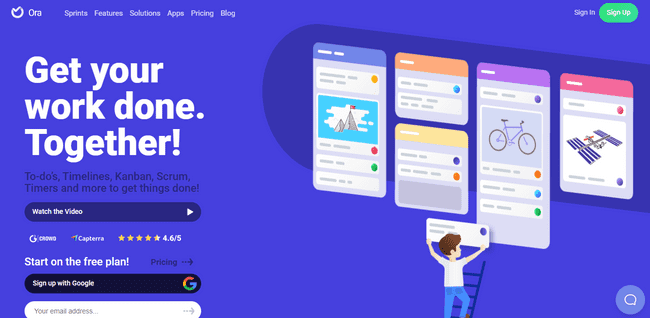 Source: Ora
Ora is an all-in-one project management software including to-dos, timers, Kanban, timelines, and others. You can use it as a command center to make your team agile and run your business efficiently.
It is so handy that it can easily blend with your business structure. It is very useful for medium to large scale organizations.
Key Features
Time tracking, analytics, and estimate,
Task management, resource planning,
Reports, team collaboration, scrum, Kanban board,
Available for Windows, Android, Web, Linux, macOS, and iOS
Pros
This app is a compact package for time tracking, project, and team collaboration.
The agenda view is very much useful.
It is intuitive and user-friendly.
Cons
The time tracking is a little bit buggy.
There needs documentation to understand some configuration.
The price is high as the team grows prominent.
Pricing
Basic is free up to 3 users.
The startup is $4.33 per user per month, up to 8 users.
The professional is $5.99 per user per month.
Enterprise is $15.99 per user per month.
Reviews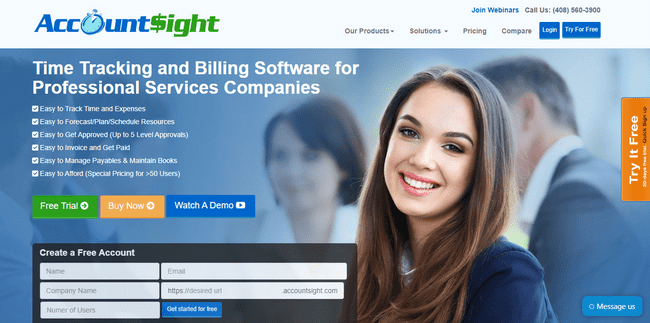 Source: AccountSight
AccountSight is an intuitive and elegant time and expense tracker, invoice, and resource management software. It is affordable for all types of business organizations. It offers an easy time tracking, online timesheet, employee scheduling, project estimation, and others.
The software is cloud-based. You can consider it as one of the alternatives to Harvest for the following reasons.
Key Features
Online time tracker, reminders, billable and non-billable hour calculation,
Visibility and expense approval, payroll, billing,
Budget, profitability, attendance, resource utilization reports,
Integrated with Quickbooks,
Available in Android, iOS, and Web.
Pros
The pricing is very reasonable and suits all the business types.
The time and expenses tracking functionalities are very user oriented and useful.
The setup is easy and intuitive to use.
Cons
It does not allow clients to customize the invoice.
The support should be improved.
The attendance tracking for each employee is complex.
Pricing
Free for one user.
Basic costs $10 per user per month.
Small group is $9 per user per month.
Enterprise is $8 per user per month.
Reviews
Which Everhour alternatives do you choose?
We have listed some of the best Everhour alternatives for your purpose. After exploring this content, we hope to bring out some value to you.
Please let us inform if you have further suggestions, which app you want to use. We are eagerly waiting to get a valuable response from you.