Hubstaff Alternatives The Best 11 Suggestions in 2021
Choose one of the top time tracker from 11 Hubstaff alternatives in 2021. Check their details, features and reviews.
Hubstaff Alternatives The Best 11 Suggestions in 2021
Are you a person who picks the best one after trying so many varieties? As time tracking, employee monitoring, and productivity analysis become very simple and effortless by some dedicated tools, we seem to be very selective when it is a matter of our progress and productivity.
Undoubtedly, Hubstaff is one of the most popular solutions among those tools available in the tech-savvy world. We look forward to some other Hubstaff alternatives at a time as we want to try different options to get the best one for our purpose.
Here, you will find the top 11 Hubstaff alternatives suggestions with their details and reviews. Make a comfort room and take a tour to get the best app you need.
Why do most people prefer Hubstaff?
Hubstaff provides you with both online and offline time tracking features. It's unique for its advanced time tracking features, random screenshots, activity monitoring, automated payroll, GPS tracking, and integrations. It provides a variety of functions within one platform.
You can take screenshots once, twice, or thrice every ten minutes.
With Hubstaff you can assign projects to unlimited employees by setting time and budget limits
It gathers the clock in and clock out timings and activity records and prepares an online timesheet report. This report can be exported into different formats.
It has 30+ integrations with popular tools like Asana, Trello, and Paypal.
It's available for Apple, Windows, Linux, and iOS.
Already you have known that Hubstaff is pretty prominent in its field with adequate features.
Why do we need to search for an alternative solution?
Well, the answer can be given from so many perspectives. The truth is that human nature is always avid for more! We think to get the best benefits within the budget. In practice, it is one of the vital reasons that we want alternatives.
Also, as the start-ups and a growing number of remote teams, or remote freelancers are most common, it's better if we keep ourselves updated with some other Hubstaff alternatives available in the market.
The increasing competition and repetitive launch of new software with new unique features compel us to explore the alternatives to compare and find the most user-friendly option.
Let's check some other alternatives of Hubstaff with their details.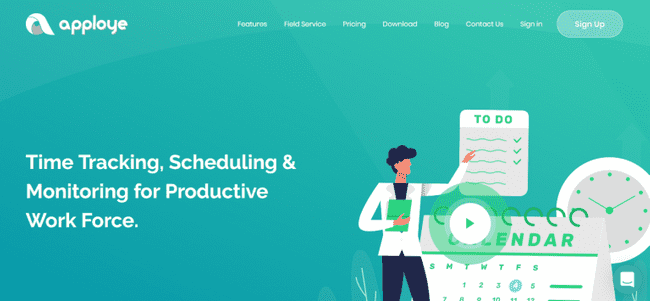 Source: Apploye
Apploye can be considered the best alternative to Hubstaff. It has an intuitive of a productive workforce and the achievement of business success. Apploye provides remote teams, big companies, and freelancers an easy platform to optimize productivity by tracking time and work progress.
It has outstanding features that not only provide you time tracking but also offer you employee monitoring, payroll, and scheduling. The widget is very compatible with the desktop and mobile.
Apploye is so much radiant in its operation because it has-
Random screenshots keep in check your team's work progress. You can set screen capture once in every 10 minutes or turn off the feature when necessary.
Online timesheet (daily and weekly) and dashboard to record the tracked time comprehensively.
Apps and URLs tracking service to track the activities of the employee.
Productivity level measurement to observe the status of individual performance.
Payroll management with the versatile payment method.
Unlimited project and task management.
GPS location tracker to oversee the outdoor employee.
Employee scheduling, shifting holidays and tracking absent employees.
Comprehensive reporting system
The main feature that distinguishes Apploye from Hubstaff is its powerful scheduling. You can keep track of your absent employees and shift their schedules when necessary. Also, you would like the reporting system of Apploye because of its versatility.
It provides reports on time and activity, app usage, URL usage, manual time, due amount, paid amount and one-time payment. Using Apploye's mobile app you can track remote employees and analyze their activities precisely via GPS location tracker. This helps the field service and sales team better record their work hours.
So, leave all the stress about tracking, monitoring and scheduling of employees on Apploye and enjoy your work.
Platform:
Windows, Android, Linux, Mac.
Pricing:
Solo: $4.00 per user per month.
Standard: $5.00 per user per month.
Premium: $6.00 per user per month.
Elite: $7.00 per user per month.
Reviews
Like Apploye and Hubstaff, Time Doctor offers both productivity monitoring and time tracking features. It not only provides the total tracked time of an employee, but it also provides the details analytics of how much time is spent on which project, client, or task.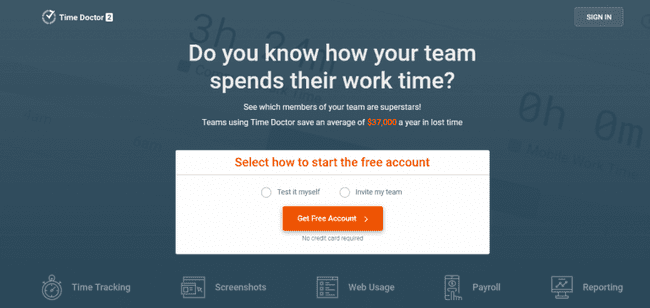 Source: Timedoctor
It helps you to identify the productive and less productive hours among the tracked hours.
The most highlighted properties of TimeDoctor are given below.
Since there's no flaw in the time tracking data, you can cross-check where time is spent. You can use this data to bill clients or have a separate record for paying staff.
You can set notifications to remind your employees of the task they're working on if they spend a noteworthy amount of time on irrelevant websites and applications. For example, an employee is working on an article for almost an hour, until he opens an email that leads him to a different website. Then Time-Doctor gives a reminder to the employee by sending a pop-up saying, "Are you still working on your article?" This reminds the employee that he's been distracted and assists him to stay focused on his task.
However, Time doctor's unique features come with a high price. Its price range is higher than other Hubstaff alternatives discussed in the list.
Platform:
Windows, Android, Mac, iOS.
Pricing:
Time doctor has a free trial for 14 days a limited feature plan.
It starts with $10/month per user for Time doctor's full set of features.
Reviews
Capterra: 4.5/5
G2: 4.3/5
Desk Time is another alternative you can try instead of Hubstaff. It tracks in real-time the usage of websites and apps used by employees during office time.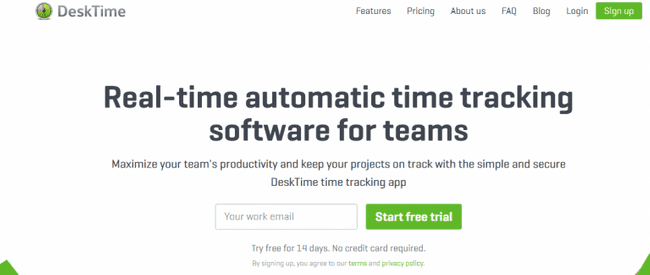 Source: Desktime
It primarily monitors the productivity level of remote teams, small and medium businesses, freelancers. Other features are almost similar except for two unique features.​
The major points of the DeskTime are:
Desk Time has two unique features- one is Pomodoro timer, another is a private time option. Desk time introduces Pomodoro timer to reduce the monotony of employees working at a stretch. It will remind you to take a break from work every 52, 60, or 90 minutes.
If an employee needs to do something work unrelated during office hours, then he can turn on the private time feature. The time won't be tracked while it's on. There are some disadvantages to these two features as well. Since these features allow the employees to take an unmonitored break, some employees may take advantage of these features and slack in work, or take too long breaks.
Other than these two unique features other features like screenshots, billing rates, vacation & absence tracking, customizable reports are also available. An online summary of activities is captured by a screenshot and an offline summary can be recorded as well.
Since Desk Time focuses more on productivity, there are certain fields it fails to cover up. It doesn't have GPS tracker, Invoicing, and Payroll feature altogether.
Desk Time's pricing is medium, not too high, and not too low- compared to other competitors and available features.
Platform:
Windows, Android, Linux, Mac
Pricing:
DeskTime Lite version is free for 1 user only.
DeskTime Pro starts at $7.00 per user per month.
Premium is $9 per user per month.
Enterprise costs $14 per user per month.
Reviews:
WorkPuls is an easy time tracking solution for companies with remote teams and businesses of all sizes. It's a platform for Time Tracking and Employee Monitoring that provides a variety of features altogether.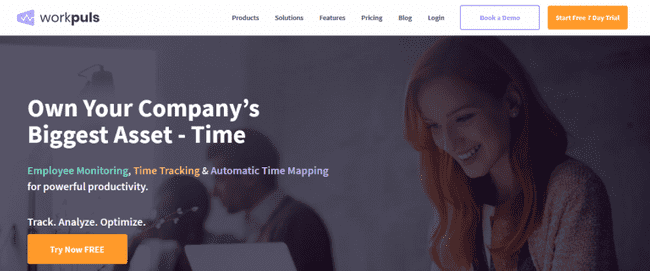 Source: Workpuls
You can find it competent for some reasons.
In their intuitive dashboard, you can find the number of employees working and how many are slacking. Once set up, it runs in the background of employee computers. Only the management gets to see the insights & reports by default. The authority can decide to show the employees that WorkPuls is running, and use the solution according to their management and company rulings.
It secures the historical data for two years and allows you to access it any time within these two years. It has screenshot monitoring, time tracking, Graphical representation of workday, project budgeting, etc.
However, it still lacks GPS tracking, scheduling, invoicing. Therefore it's still not a suitable alternative for many users.
Platform:
Windows, Android, Linux, Mac
Pricing:
Its starting price is $6 per user per month.
Yearly pricing is $57 per employee.
7 days of free trial.
Reviews:
ActiveCollab is basically a project management app created for organizing busywork into tasks and subtasks. It helps you to collaborate with your teams and clients. Its features are time tracking, budgeting and invoicing, reporting, and automatic rescheduling. They also have third-party integrations which makes work a lot easier.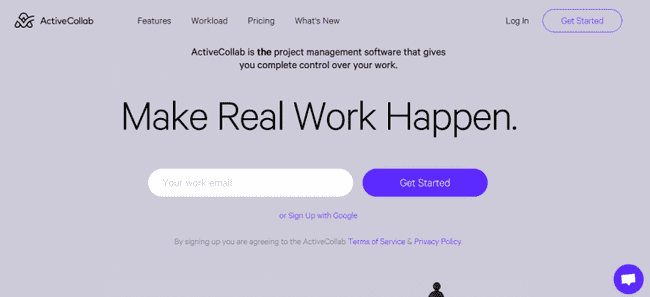 Source: ActiveCollab
The more properties of ActiveCollab are:
Client portal, cost-to-completion tracking.
Gantt chart and kanban board.
Marketing planning with budgeting and forecasting.
Product road mapping and workflow management.
Resource management and employee scheduling.
Despite having all these features, they lack in many aspects in comparison with other competitors. They don't have all the essential features like screenshot capture, URL tracking, GPS tracking, etc. making it difficult for the customers or users to meet their requirements.
Platform:
Windows, Android, Mac, iOS.
Pricing:
ActiveCollab has two types of plans; annual and monthly.
For Annual billing, they have $6.25 per user per month.
For monthly billing, they have $7 per user per month.
Reviews:
Harvest is another suitable alternative for Hubstaff. It contains several features that make time tracking and employee monitoring more convenient for the user. They track time using a timer and log their weekly time into a timesheet all at once.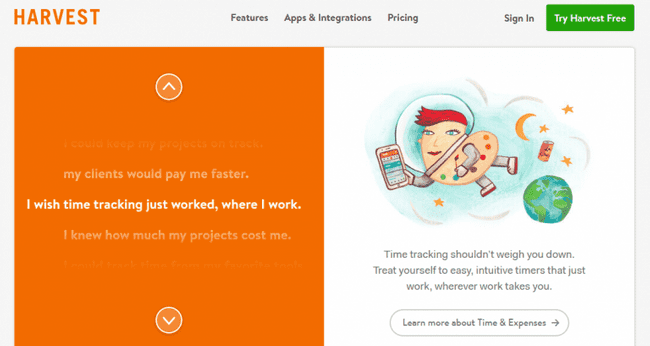 Source: Harvest
Common features like- time & expenses, invoicing, and scheduling.
Online timesheet enables you to see how much time spent working, how much budget is left, and how much time is billable.
Invoices where you can create an invoice from the tracked time and email it to your clients and get paid online using Paypal and Stripe integrations. It also integrates with popular tools like Asana, Basecamp & Trello.
However, there are some features that are absent in it, like screenshot capture, URL Tracking, GPS tracker, payroll. This is why it falls behind other competitors in these criteria.
Platform:
Windows, Android, iOS, Mac.
Pricing:
Harvest has 3 types of pricing plans based on monthly and yearly.
Free trial plan- Starts at $0 for a single user, 2 projects/ month.
Pro- Starts at $12 for unlimited users, unlimited projects/month.
Reviews
If you try to manage time usage and understand the activities that need improvement for project management, Timecamp would be a great option.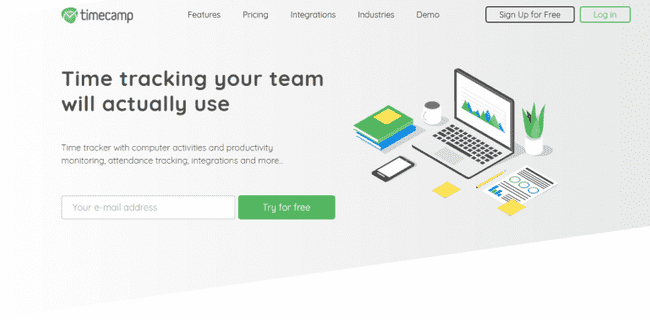 Source: Timecamp
It is well known for its time tracking varieties, which supports all kinds of teams and agencies.
Timecamp offers you:
Automatic time capture, offline tracking and timesheet management.
Calculation of billable and non-billable hours and overtime.
Billing and invoices with multiple billing rates.
Payroll management and expense tracking.
Though it is very flexible with time tracking and invoicing, it has some limitations. The reports are not well organized and it would be better if it has a customer portal. It is exclusively suitable in time tracking but you may get disappointed with other benefits like employee monitoring and scheduling.
Platform:
Windows, Android, Mac, iOS.
Pricing:
Timecamp has four types of pricing plans.
Solo is free forever for one user.
Basic costs $7.00 per user per month.
Pro is $10.00 per user per month.
Enterprise is customizable.
Reviews
Favro is an excellent tool of time tracking for an individual for task management. It is very sophisticated, organized, and easy to use. You can use it for marketing, operations, and product development purposes. It is best for fast-growing entrepreneurs and enterprises.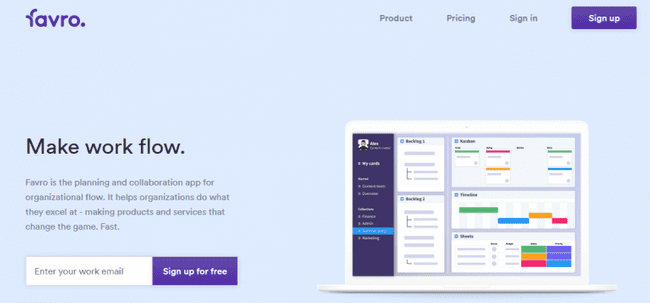 Source: Favro
You can find the following features in Favro.
Timesheet, vacation, and leave tracking.
File and document sharing.
Project and task management.
Candidate tracking and internal HR management.
Employee management and scheduling.
Overall it is a great tool but still needs some modifications. It has many integrations like Jira, Slack, Zapier and more. The price is a little bit richer than the others.
Platform:
Pricing:
Lite is $10.2 per month for two users
Standard costs $13.6 per month for two users.
Enterprise is $25.5 per month for two users.
14 days of a free trial.
Reviews
Toggl is a new, cloud-based time tracking app that is full-featured in its time monitoring application. It allows online and offline tracking. Toggl is more than that. You might be amazed to see the functionalities of this fantastic app.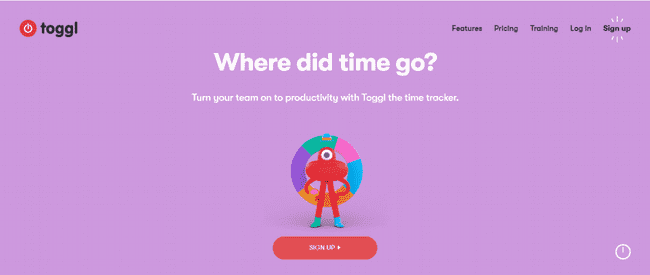 Source: Toggl
The time tracking is formatted in both 12- an hour and 24- hours. This helps the freelancers or remote workers to maintain international time with their clients.
It provides manual entry and bulk editing. These facilities are provided for the non-technical work which work is not related to any device.
It also tracks the website visited during work and records the spent time.
An amazing benefit of the Toggl is automatic tracking. Just customize the program and set the trigger. After that, you can do your activities in the device, leaving all the pressure in Toggl.
The UI is a little bit complex to navigate. The reporting system needs more development. The price is comparatively high.
Platform:
Windows, Android, iOS, Mac
Pricing:
The starter begins $10 per person per month.
Premium costs $20 per person per month.
Enterprise offers custom pricing.
Free trial for 14 days.
Reviews:
My Hours is specially designed for freelancers and remote teams. It is a project-based time tracking app. MyHours has a very clean and user-friendly interface. It generates individual reports based on time tracking which is shareable with the employer or client.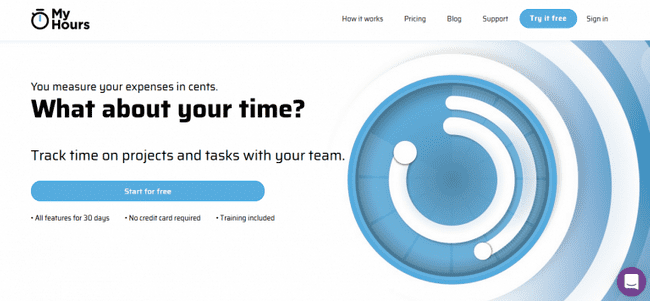 Source: MyHours
You would probably love using My Hours Because of:
Having a useful project management tool. You can create the same task for several projects to do repetitive work on many projects.
Handy invoicing and billing technique. You can set multiple billing rates for the same client with different tasks or the same bill for various clients.
The free version is quite enough for individual purposes or small agencies. The necessary time tracking features are provided with precise records.
It is not wise to use this app for large companies and enterprises because it has limited properties and fewer integrations.
Platform:
Pricing:
Free for a solo user.
Pro is $6.00 per user per month.
Free trial for 30 days with full features.
Reviews
OfficeTime is another good suggestion as a Hubstaff alternative. It is by far cogent in the tracking field. It is suitable for small and mid-size businesses.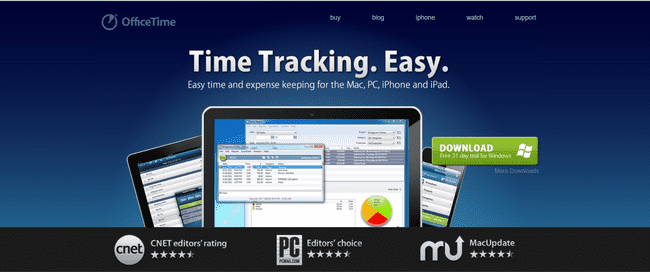 Source: OfficeTime
The features of the OfficeTime are-
The automatic time tracking system
Billable and non-billable hours calculation with multiple billing rates
Offline time tracking and overtime calculation.
If anyone would like to stick to the time tracking purpose, he may use it soundly. But he would not be benefited, expecting more features from this application.
Platform:
Windows, iOS, Mac
Pricing:
$3.99 per user as the starting price.
Reviews
Which alternatives of Hubstaff do you want to try?
From the above discussion, you can easily understand that there are a lot of Hubstaff alternatives available in the market. But different software differs in their features and pricing. Some have a high price range but lacks some essential features.
At the same time, Apploye is the only alternative that I found well balanced in elements within the best price range. It's providing all kinds of features you need, all within one single platform and that also at a reasonable price.
Now, it's up to you to compare and experience the apps to find out which one meets your requirements and expectations within the best price range.