World's 10 Best Time Doctor Alternatives in 2021 (Tried & Tested)
Get the 10 best lists of Time Doctor alternatives in time tracking and productivity apps. You can get the details of the apps i.e. pros, cons and reviews.
If you search for the time tracking apps in the market, you will get to know that Time Doctor has the fame of being one of the best in it. Time Doctor has proficiency in tracking and productivity monitoring.
Then why do we search for the alternatives of Time Doctor?
You might find it expensive to use, or it is not suited to your organization, or you want some more facilities than Time Doctor has. It is wise to keep looking and get updated on the substitutes for getting better options for the service you use.
We are here to put together all our experience to bring the best alternatives of Time Doctor to you.
What does make Time Doctor so prominent?
Before discussing the alternatives, let's talk about the advantages of Time Doctor.
The features of this app that make it so popular among its users all over the world. This software aims the individual to a large extent business owners to track their time and activities. The app is available for mobile and desktop competent with Windows, Mac, iOS, Linux, and Android.
The more support you will get-
Advanced tracking: You can track the working time and find the review based on the project, task, and client. Identify the productive and non-productive hours with real-time records. Estimate the project progress with the scale of total time occupied in each project.
Comprehensive report: You can get advanced reports and timesheets to mark the productivity perk and loss of every employee. See the daily and weekly reports on hours, application and website usage, task, clients, and more.
Alerts and reminders: Notify the employees if they remain idle for an extended period, or visit non-official websites for personal interest. Use off-track reminders, screenshots, app, and website tracker to monitor the individuals.
Automatic billing: Automate the employee payroll based on fixed salary or hourly billing. You can set the bills for clients as well. Time Doctor helps to minimize the complexity and increase the productive use of time.
Also, you can read our another article about the comprehensive review of Time Doctor.
The reason to explore the alternatives of Time Doctor
People search for other alternatives because of some reasons.
The response from the support team is a little bit slothful. This leads to a troublesome situation when you need any emergency support.
The pricing plan is a little bit higher than the others. It demoralizes the small business owners or the individual to use this app.
The mobile app has limited features to use.
The automatic alert creates a distraction while you are watching an official video or reading relevant documents.
The top Time Doctor alternatives on the ground
Here, we are representing the top alternatives of Time Doctor. Let's plunge into the detailed descriptions of the alternatives.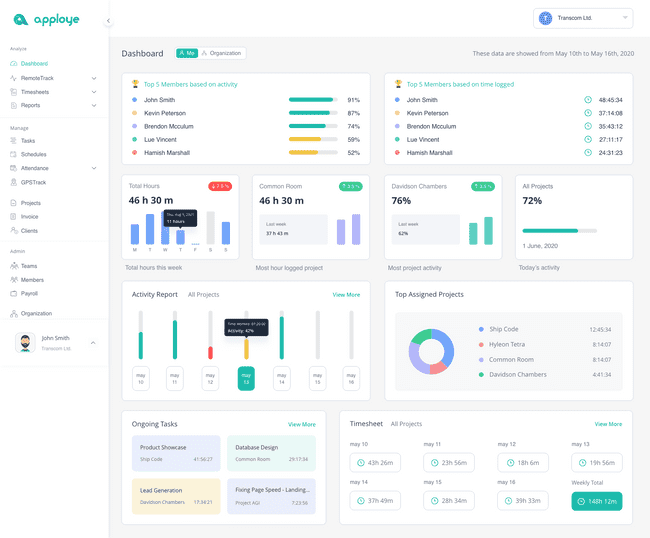 Source: Apploye
If you want to implement a smart and active time tracking app that can run in office, mobile, and remote teams at a time, Apploye is here for you. No matter where your employees are, Apploye can serve all types and all sizes of business entities.
It has a time tracker, productivity analyzer, and employee monitoring facility. The customizable timesheet and organized dashboard enhanced your management one step ahead. You can easily find the roadblocks on the way of your target and can eliminate them with Apploye.
Key Features
Automatic time tracking, Offline tracking, and manual time entry for missed logged hour.
Daily, a weekly and monthly timesheet to preview the working status of each employee.
Apps and URLs tracking, keyboard, and mouse movement tracking with random screenshots.
Project and task management, employee scheduling, and attendance tracking.
GPS location tracker to oversee the mobile and outdoor employees.
A one-click payroll solution for hourly payment and one-time payment.
Compatible with Windows, macOS, Linux, Android, and Chrome extension.
Pros
The app is straightforward with intuitive UI. You can line up all types of employees in your organization by using it.
It tracks the working hours on project-based. Add several projects and tasks and monitors the project progress in the organized dashboard.
Get the real-time data and precise review of the activity of each of the employees in your organization. See who is work with the full dedication and who is not.
It creates several reports on time vs. activity, manual time entry, app, and URL usage, and payroll reports on the due amount, paid amount, and one-time payment.
The customer support is pretty fast responsive. Also, the price is very reasonable to match up the small agencies.
Cons
The app does not support iOS yet, but the team is working on it.
There is a very limited number of integrations.
Pricing
Solo: $4 per user per month
Standard: $5 per user per month
Premium: $6 per user per month
Elite: $7 per user per month
Reviews
Remote teams like this app for all in one service of Apploye. It provides tracking, monitoring, and scheduling in a single platform. It is very popular to measure the productivity of the team.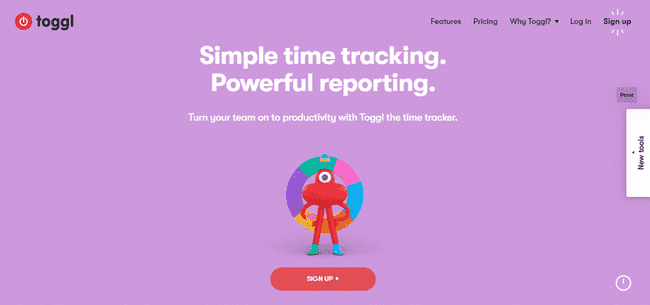 Source: Toggl
Toggl has the motto to proffer simple time tracking and powerful reporting. It ensures error-free time tracking to make your team smarter. The mobile, desktop and web-extension applications ease your work wherever and whenever you want to work.
Break your productive time into projects, tasks, and clients. Focus on your progressive work and take less time to manage your team.
Key Features
The basic feature includes one-click timer, reminders, and manual time entries.
Reports, billable rates, projects, and team dashboards.
The advanced feature has the facility to visualize profits and labor costs.
Email tracking reminders and schedule alerts.
Above 100+ integrations including asana, basecamp, drupal, etc.
Available for Windows, macOS, Linux, Android, and iOS.
Pros
Toggl draws the attention of the individual users and freelancers with its sophisticated tracking system.
The vast integrations explore it to work with a versatile platform.
It offers to share the dashboard info to others which help to keep the team up-to-date.
Cons
It has a strong basic time tracking feature, but you can get upset with it when it comes to tracking and monitoring.
The Mac version is a little bit faulty.
The customer support is disappointing if you need them for any urgencies.
Pricing
Starter costs $10 per user per month.
Premium is $20 per user per month.
Enterprise is customizable.
The free version is available for teams up to 5 members.
Reviews
The individuals and small teams get benefited from the free version. The timesheet is pretty simple and organized. Overall, this app helps most of the customers review this app quite satisfactory in time tracking.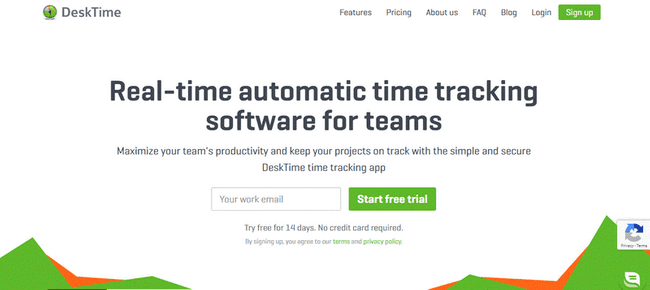 Source: Desktime
Desktime helps your team to outreach a new level by time and productivity tracking software. You can rely on the data as it ensures 100% real-time data.
You can observe your employees' applications, websites, and programs, categorize them into productive and non-productive sections to mark how the employees utilize the working hours. It also helps plan the vacations, track attendance, and calculate the costs and payments for you.
Key Features
Fully automatic online and offline time tracking with Pomodoro timer.
Project, screenshots, app and URL tracking, the document title track.
Absence calendar and shift scheduling.
Third-party integrations with Google calendar, Outlook calendar, Trello, and others.
Available for Windows, Android, Mac, iOS, and Web.
Pros
Desktime allows you to track time-based on each document. It helps you to estimate the time needed for that specific work and specific employee.
It saves the contact information of the team members to avoid interruptions and boost team communication.
The Pomodoro timer aids the extra service to make the employees more focused by minimizing burnouts.
Cons
It doesn't have the manual time entry option. If you miss the timer, there is no option to enter the lost time.
The reports need some modification for better improvement.
It is tailored for the organizational purpose rather the individual use.
Pricing
Lite is free for one user.
Pro costs $5.94 per user per month.
Premium is $7.75 per user per month.
Enterprise is $11.88 per user per month.
Reviews
Most of the users review this app as a productivity perk and team management tool and time tracking. In a word, it is a great and simple application for business enterprises.
See the list of the best desktime alternatives.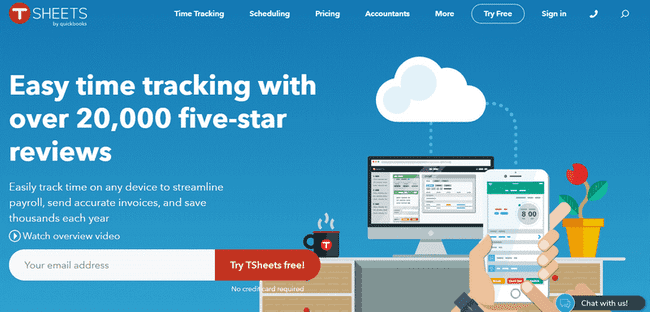 Source: Tsheets
Tsheets aims to simplify your business with time tracking, payroll, and invoice management. The digital clock-in-and-out solution centralizes the on-site attendance. You can track billable hours against projects, jobs, or customers. Then, you can create costs and estimations.
Employee scheduling helps you to synchronize the workforce. Also, GPS tracker and Geofencing increase the transparency between the employer and employees..
Key Features
Online timecards, timesheet, billable and non-billable hours tracking,
Time clock kiosk, GPS tracker and Geofencing,
Attendance tracking and shift scheduling.
More than 40 integrations
Available for Android, iOS, Web.
Pros
Easy automatic clock-in and clock-out make the app user-friendly. You can manually enter the time entries into the timesheet.
You can get real-time reports for timecards, projects, and payroll summary. Export the data into PDF, Excel, or CSV files.
Time tracking, scheduling, and accountant make this app sufficient to consolidate the work in one platform.
Cons
You can not monitor the activity or performance of the employees.
It is a little bit expensive for small-size companies.
The functions are a little bit complex to use.
Pricing
Elite is $7 per user per month.
Premium costs $6 per user per month.
Reviews
The software is rated high for its clean and intuitive interface. It draws attention to its scheduling and payroll management.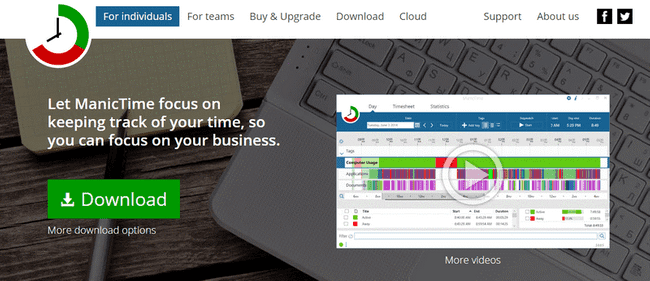 Source: ManicTime
If you want to know your business, how the employees perform, and keep updated about every ins and outs of the progress, ManicTime would be perfect for you. This time tracking software allows you to get accurate insights into your organization.
The features make the tools useful for small and mid-size business owners, freelancers, and remote workers. It can track the working periods, both automatically or manually. Moreover, it provides valuable timesheet, reports, and payroll management.
Key Features
Automatic timekeeping, overtime calculation, vacation and leave tracking,
Stopwatch, online timesheet, payroll reports,
Integrate with Jira or GitHub, etc.
Effective for Windows, Android, and macOS.
Pros
You can scan the automatic screenshots to get accurate billing.
The interface is easy to use and navigate.
The timesheet creates only the billable hours which is really effective.
Cons
There are very limited integrations.
The free edition has limited features to use.
The mobile app is a little bit problematic to use.
Pricing
Free with very limited features.
Pro is $67 per user per year.
Reviews
This tool is remarkable for personal time tracking and billing solutions. The setup is easy and simple to implement.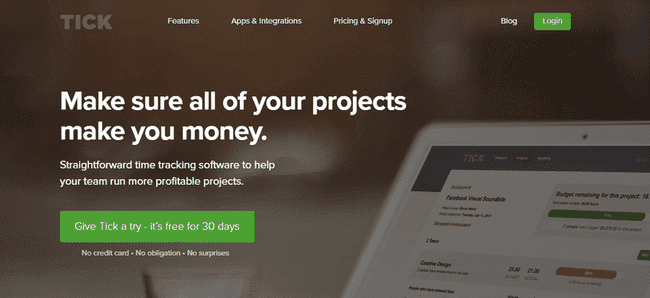 Source: Tick
Tick values your money and profit. Therefore, it provides a secure time tracking system to hit the budget. It considers your time as your inventory. It helps you to make the best use of your time to do a profitable business.
Run the tracker from any device, anytime and anywhere. Track your budget in real-time and make insightful reports by client or timekeeper on your need basis.
Key Features
Simple and straightforward time tracking with timecards and timer.
Project budget with budget feedback.
Time reports for client or person.
Integrate with 750+ apps and tools.
Available for Windows, Android, macOS, iOS, and web.
Pros
You can get an overview of the time used for individuals or teams.
The administrator can easily get through the project budget and observe the breakdown of hours by task or people.
The feedback from the budget keeps every member to be focused and on track.
Cons
Though it is very useful for time tracking and budgeting, it does not perform better for other functionalities like employee monitoring and scheduling.
The reporting system has some lacking.
The mobile app needs some modifications
Pricing
1 project is free.
10 projects cost $19 per month
30 projects are $49 per month
60 project cost $79 per month
The unlimited project costs $149 per month.
Reviews
It is a time tracker and project management software. It is flexible and effective for all kinds of business entities.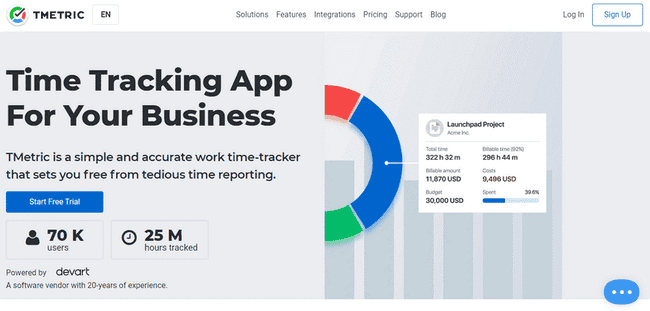 Source: Tmetric
This time tracking software focuses on personal productivity. You can get an in-depth overview of your efficiency as TMetric observes your working pattern. It tracks the billable hours and breaks of your total working hours.
You can get control over the onsite employees and remote teams and get the highest perk of productivity. To increase the mobility of your organization, generate automatic billing and invoices.
Key Features
Timer, tags with bulk edit time entries, team management
Detailed or summary reports for projects, app and site usage, and rounding.
Billable rates estimation for personal or projects purpose.
Integration with Quickbooks, Gitlab, Jira, etc.
Available for Windows, Android, Linux, macOS, and iOS.
Pros
You can make your project budget easy by its time or monetary value.
The team management is filled with activity level monitoring, screenshots, attendance tracking.
The client's billing is very much easy and effective, especially for freelancers.
Cons
You can face some trouble with manual time entry.
The timesheet should be more user-friendly.
You may not add the project directly from the extensions. You have to follow the external links
Pricing
Free for one user.
Professional costs $5 per user per month
Business is $7 per user per month
Reviews
This app is pretty decent for time tracking, team monitoring, and project management. Most of the users' review this app for its clean and easy invoice management system.
Also see the list of the best tmetric alternatives.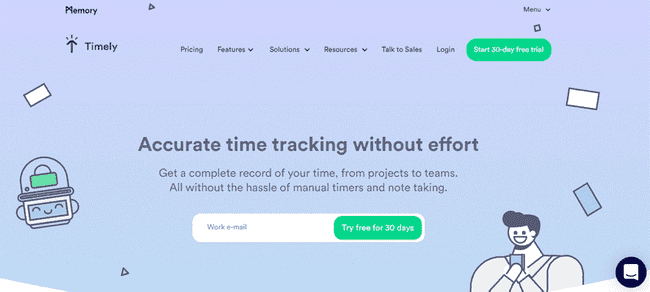 Source: Timely
Some people are bored with the start/stop button of the tracker apps, whether some forget to start the app. If you are on the list of those people, timely is only for you.
Timely automatically integrates with your device calendar and track the date and time. It is a tool to manage your productivity, efficiency, and profitability.
Key Features
Project planning and time management
Team planning and time management
Over 100+ integrations
Available for Windows, macOS, Android, and iOS
Pros
It presents the reports in the graph-level view. It makes the reports easy to analyze.**
The AI 'Memory Tracker' saves a lot of time.
The dashboard is very specific and detailed. It also produces automatic tags.
Cons
It is costly for individual and small team users.
It overlooks some features like reminders, offline tracker, screenshots, GPS tracking.
The offline support should be improved.
Pricing
Moonlight is $5 per user per month
Freelancer costs $11 per user per month
Professional is $18 per user per month
Reviews
Timely provide better visualization of business in the form of project and team management. Automatic and hassle-free software offers great customer service.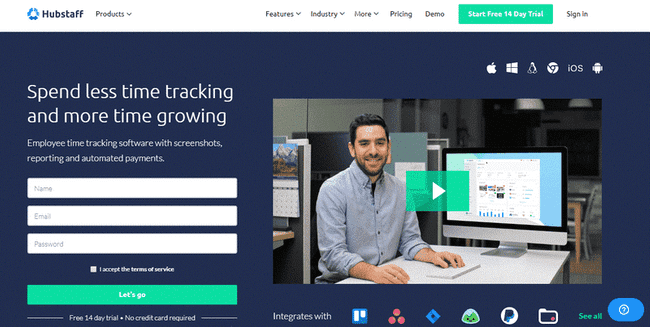 Source: Hubstaff
Hubstaff is another gem in the time tracking and monitoring field. The app is very easy to navigate and user-friendly. The Hubstaff has a smart tracking method. It not only tracks the time but also tracks apps and URLs used during the work.
You can get the details in the dashboard on how you spent your time on projects and tasks, the projects' relative progress, activities with screenshots, and more information in a single frame.
Key Features
Time tracking and online timesheet
Employee scheduling and monitoring, productivity measurement
GPS location tracker and Geofencing
Integration with Active Collab, Asana, etc.
Available for Windows, Android, iOS, web, Linux, and macOS.
Pros
You can assign projects to corresponding employees by setting time and budget limits
It gathers the clock in and clock out timings and activity records and prepares an online timesheet report. This report can be exported into different formats.
Complete set of features for time tracking and monitoring
Cons
The interface should be more simplified.
The mobile app needs some modifications.
The scheduling features should be more specified with alerts.
Pricing
Free for one user.
Basic is $7 per user per month.
Premium is $10 per user per month
Enterprise is $20 per user per month.
Reviews
The app is robust and insightful for employee monitoring. Increase your efficiency and productivity with Hubstaff.
Check out our list of the best hubstaff alternatives in 2021.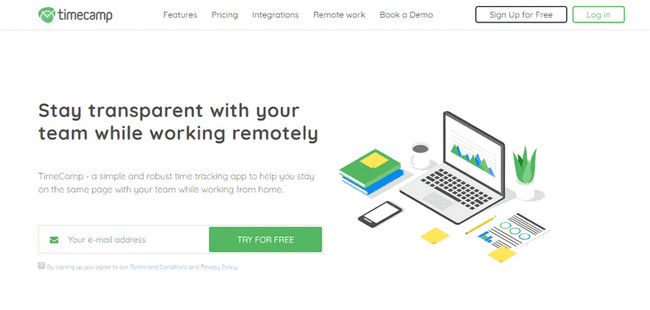 Source: Timecamp
Timecamp is not only time tracking software but also a productivity management tool. It is a web-based application. This app is the best suited for the solo user, freelancer, small and big team.
The project and employee management tool covers all the necessary features. Simplify your task with its automatic mode and enjoy your work.
Key features
One-click visual time tracking, Graphical timesheet
Billable hours tracking, GPS location tracker.
Online invoicing and calendar integration.
Over 50+ integrations.
Available for Windows, Android, iOS, web, Linux, and macOS.
Pros
It has fully featured with advanced time and expense tracker.
It is very much cost-effective and provides a free plan for one user.
The desktop and mobile versions are quite moderate and fast.
Cons
The reports should be more detailed.
The user interface is a bit complex.
The Linux version needs improvements.
Reviews
Most users rate this app as the versatile time tracker for team and project management. They love the advanced features and multifunctional properties.
Which Time Doctor alternatives do you prefer?
It is no doubt that Time Doctor has a distinct quality of time tracking. But sometimes you need something particular. For example, you want only the time tracker, you need to be more specific about your team progress or need only some basic service free or at a affordable price.
So, check all the app details carefully and choose the best one for your purpose that may be used as the Time Doctor alternatives.
You can check out Apploye as the better alternative of timedoctor at any comparison.
Leave a reply if you want to know further queries.