Complete Review on Time Doctor in 2021| Apploye
Time Doctor is a leading time tracking and employee monitoring tool. Learn the comprehensive review about the features, usability, pros, and cons.
Are you looking for a comprehensive, in-depth review of Time Doctor?
This app has hit the market with its amazing features. Now it's a common trend to choose the hybrid workplace where in-office and remote employees work parallelly. Time Doctor influences this workplace to encourage utilizing of talent and employee engagement.
We have tried Time Doctor. All the features and interfaces we've experienced to get the real observation of this top-class time tracking and employee monitoring tool. Before making up your mind to go with Time Doctor, get an intensive review.
A short overview on Time Doctor
Time Doctor is a time management application deals with time tracking, productivity, and employee monitoring. Many business enterprises and startups apply Time Doctor into their system to ease activity monitoring, payroll, and employee engagement.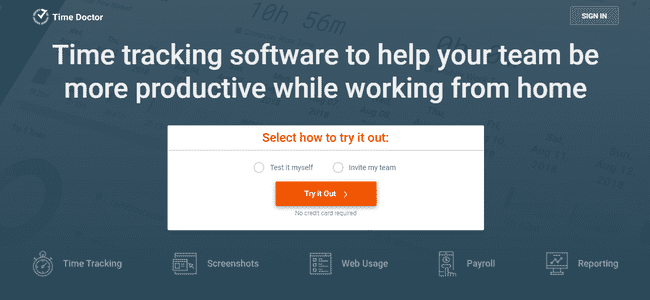 Source: Time Doctor
The main features of Time Doctor are-
Automatic time tracking, project, and task-based time tracking, offline tracking,
Timesheets, screencasts, productivity measurement, apps, and URLs tracking,
Client access, powerful reports, payroll, time use alerts, off-track reminders,
Attendance tracking breaks tracking, idle time monitoring,
Integrated with Trello, Jira, Asana, etc.
Use in Windows, Android, Mac, iOS, Chrome, Firefox, and Web.
A comprehensive review of Time Doctor
It's not wise to use any tool only to observe the key features in brief. We're here to provide you a complete observation on Time Doctor.
Let's have a look.
Settings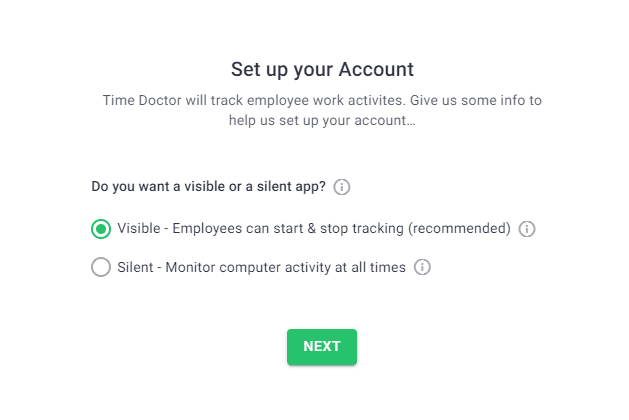 Time Doctor installation is super easy. Without any email confirmation or credit card information, you may straightly sign in to the account with some small procedures.
You may try it for yourself or in a team. First of all, add the company name and members.
The automatic time tracker has two methods, one is the visible app, and the second one is the silent app.
To set up your account, you may enable or disable some features as per your need.
It allows time tracking with integrated tools. You may allow or disallow the time tracking with integrations.
With the team invitation, you are on your mark to enjoy your work with Time Doctor.
The User Interface (UI)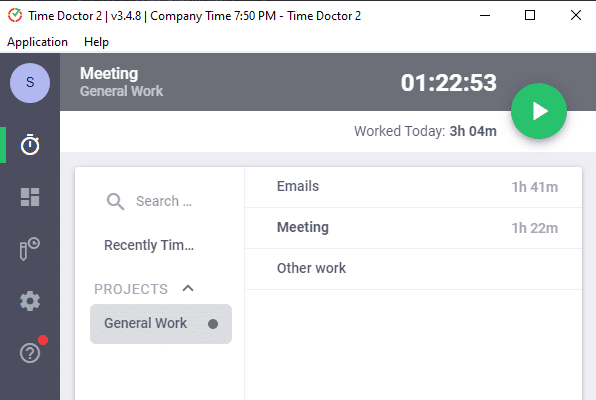 Time Doctor provides an intuitive timer for your mobile and desktop. On an important note, If you try to use both desktop and mobile apps, desktop collected data may override the mobile one. So, the support team has suggested not to use both apps at a time to avoid the error.
Time Doctor Mobile App
The mobile app lacks features like application and website tracking, screencast, GPS tracker, and keyboard and mouse movement tracking.
Time Doctor Desktop App
Coming to the desktop app, it has two systems;
Silent app,
Interactive app.
The silent app activates automatically when the computer starts. You can't see any UI of the app. It works silently and tracks all the necessary information.
On the other hand, an interactive app has its own UI. You can use the 'START/STOP' timer. The tracking information is as same as the silent one. Also, you can work on tasks/non-tasks mood.
Dashboard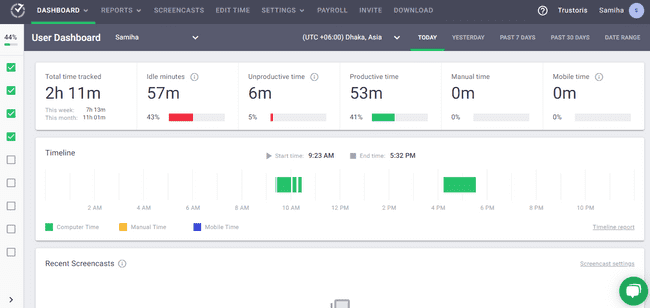 Time Doctor provides an organized dashboard that shows some important features in a single frame. It helps you to view your updates and working status. It has two interfaces for the admin.
Team Dashboard
User Dashboard
Team Dashboard: This shows the team's activities as a whole. You may see the total working time, productive and unproductive time, the highest amount and low activities of worked users, and so on.
User Dashboard: In this interface, you can observe the data for a single user. The frame consists of apps and web usage reports, timelines, screencasts, productive and unproductive time, top projects, and tasks.
Time Tracking
Time Doctor provides automatic time tracking. It starts tracking the existing project when the computer is activated. You may add a notification when it starts tracking. It offers time editing if it is needed.
You may work in an offline mood. It won't disrupt the tracking; instead, synchronize all data when the internet gets on.
Timesheets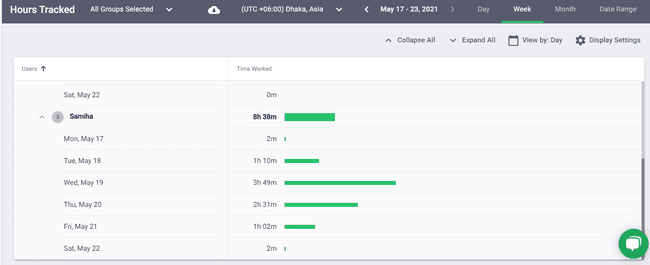 In Time Doctor, the timesheet is known as the hours tracked report. It is just a simple time report showing the total time used during the activation time. This report is hassle-free.
The more you'll get from the hours tracked report are-
Group view as well as the individual view of the timesheet on a single page.
Daily, weekly and monthly reports. The date range is customizable.
The reports can be exported and shared in an email.
Employee monitoring
Screencast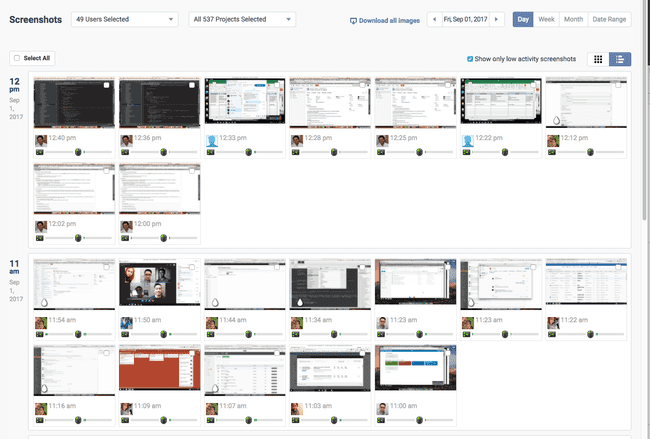 Source: Time Doctor
The screencast is an optional feature to use. If you want to avail of this feature, you've to activate it from settings. For complete employee monitoring, you need to use the screencast.
Time Doctor's screencast is very rich and smart. It allows taking screenshots and videos of the monitor that helps to maintain proper consistency and transparency.
It offers continuous screen capture at a regular interval. The interval is 3, 15, or 30 minutes.
The intervals can be customized for each member to organize this feature according to your need.
You may edit or blur the screen if you are concerned about maintaining privacy.
The screencast provides the mouse movement and keystroke tracking reports.
Web and app usage

Time Doctor generates app and web usage reports by tracking the browser history and activated apps. As it is common practice to conduct personal activities during office time, this feature will help you keep the eyes on this kind of unethical activity of the employees.
The interface allows you to-
You can customize the report's view based on users and date range.
You may preset your views based on productive, unproductive websites and apps.
The trends are the graphical representation of the report.
Activity Summary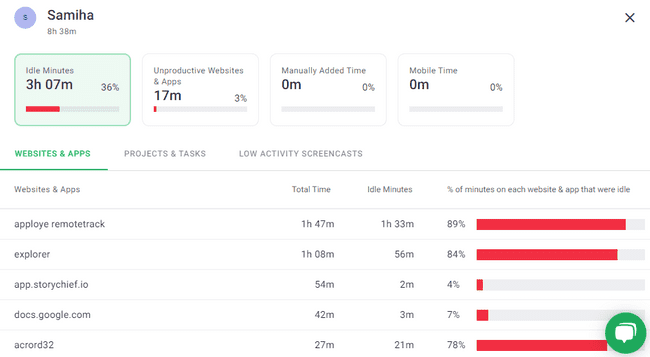 Activity summary shows how much time you are active. The representation is a little bit different because your activity is measured in the percentage of idle time.
In this report, you may see-
Idle minutes which is a measured time by not using the mouse or keyboard.
The idle minute percentage is the total amount of idle time to the total tracked hours.
It also tracks down unproductive web and app usage. The web and apps are rated productive or unproductive by the admin or manager.
It also shows the total worked time, manual and mobile time.
Payroll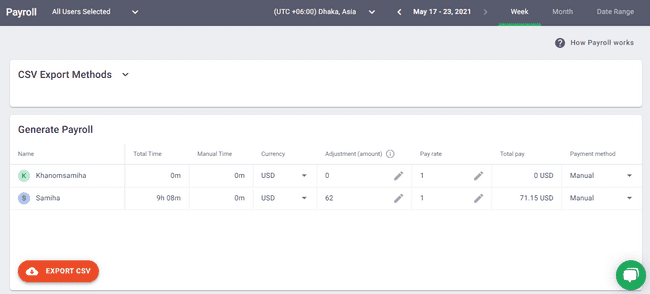 The payroll of Time Doctor is very nifty to use. The interface is quite handy. The admin may create the payroll and permit others. An important note that the silent app users may not avail of this service.
It supports PayPal, Gusto, TransferWise, and ADP for payment. The configuration is very easy. You can export the files too.
Integrations
Time Doctor has a huge list of integrations in various fields such as project management, CRM, communication, help desk, payment, and invoicing. Around 60+ integrations make Time Doctor so much popular.
You may use this with your favorite app and enjoy the seamless integration.
Time Doctor Pricing
It has four pricing plans. With 14 days free trial, you may use any of them according to your purpose.
Basic: $7 per user per month.
Standard: $10 per user per month
Premium: $20 per user per month
Enterprise: Customizable
The price is moderated for the annual plan.
The advantage and disadvantage of Time Doctor
Advantages
Time Doctor is so automated and convenient to use. You don't need to worry about starting the timer.
The idle time detection is very much advanced.
Changing the task during its activation time is very swift and easy.
The performance monitoring and reporting system are very comprehensible.
Disadvantages
Hours tracked reports can't provide individual reports on a single page. You've to see all the users' reports on one page.
You can use it for better time tracking and productivity analysis, but employee monitoring is not up to the mark.
It has a limited reporting system.
Personal review on Time Doctor
If you want to use only an advanced time tracker, Time Doctor would be a praiseworthy suggestion. I like its payroll management mostly. It is easily configurable. Also, you may rate the productive and unproductive websites and apps. It will track accordingly.
Some of the sites may be productive to some members, while others may be ineffective. For example, social media is a productive site for marketers but not for others.
The employee monitoring system needs to be improved more. You may not be able to use any project management facilities apart from project time tracking.
Reviews
Apploye- The best alternative to Time Doctor
Time Doctor is one of the popular time tracking software strikes in the market. It has some flaws, like the lack of useful features for employee monitoring and invoicing. Many people look forward to alternatives to Time Doctor.
You may try Apploye as an alternative to Time Doctor. What makes Apploye compatible is its tracking and monitoring system. It supports the best employee monitoring along with productivity mapping.
The other features of Apploye are scheduling, project and task tracking, budgeting, payroll, invoicing, GPS tracking, geofencing, attendance, and leave management.
To get more details, try it for 7 days.