Best Time Tracking Apps for Small Businesses in 2021
In business, time is of the essence. This article extensively discusses different software and analyzes the best time tracking apps for small businesses.
In business, time is of the essence. This article extensively discusses different software and analyzes the best time tracking apps for small businesses.
Time is money, and this is all the more true for businesses. Although they may seem like a simple concept, time tracking applications can revolutionize the way you work. These apps can help you optimize your productivity, work more efficiently, and bill your clients more accurately. Therefore, a time tracking app will enable you to work smart.
As there is no dearth of resources in the market, several apps in the market will help you track the work hours of all your employees. But it all comes down to what you need. If you own a small business, you might also have a specific budget in mind. You might also want the ease of integrating payment.
So, keeping all such factors in mind, we've created a list of the best time tracking apps for small businesses. Here are our top choices.
Best Time Tracking Apps for Small Businesses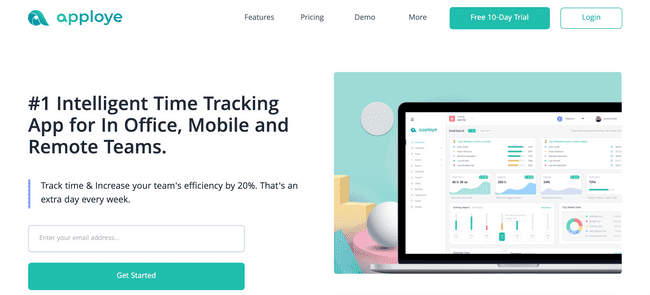 Source: Apploye
Apploye is a smart and effective time tracking app that definitely comes to our list of the best time tracking apps for small businesses. It is rich in features and comes with very affordable pricing.
Top Features
Apploye allows you to track the daily timesheet of your employees. You can see when they are working when they take breaks, and how much time they spend on each project.
It also lets you analyze project-wise spent hours throughout the week by each member. Additionally, that enables you to decide which projects need more attention to meet the deadline.
Moreover, you can see the performance analytics in the monthly calendar. Thereby, you get an overview of an employee's total hours per project in the whole month. That way, you can make your plan accordingly for the next month.
Apploye also consists of a robust employee scheduling feature. This lets you observe the team's performance by reviewing late attendance, missed shifts, overtime, and holidays. So, you can inform employees in advance about their upcoming projects, and enable them to be prepared.
With Apploye, you can set up your members within minutes. It allows you to schedule their shifts and holidays with an easy, time-saving, and advanced scheduling feature.
It also consists of a GPS location tracker to oversee the mobile and outdoor employees.
Offers a one-click payroll solution for hourly payment and one-time payment.
Compatible with Windows, Mac OS, Linux, Android, and Chrome extension.
Pros
Easy and intuitive user-interface
Affordable and rich in features
Capable of tracking working hours based on projects
Allows real-time data and accurate review of employee activities
Fast customer support
Cons
A limited number of integrations
Does not support iOS
Pricing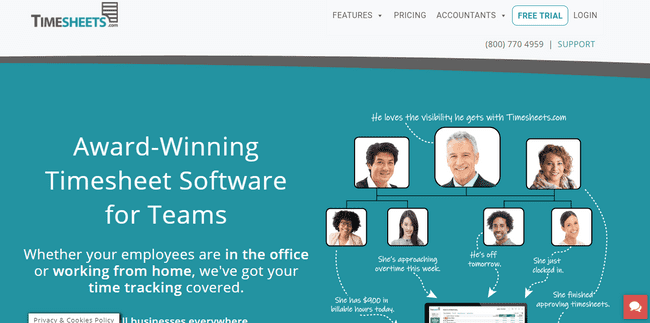 Source: Timesheets
In our list of the best time tracking apps for small businesses, Timesheets definitely comes to our mind as one of the most recognized apps. This app is dedicated to small businesses and includes not only options like monitoring projects but also creating notes and adding breaks.
Top Features
Enables time tracking for payroll, billing, or job costing. This app can also deal with electronic signatures, supervisor approvals, and provides real-time information in its detailed reports. To calculate overtime or time off, Timesheets lets you customize user settings on a per-employee basis.
Additionally, with Timesheets, you'll track mileage and expenses against the same customers and jobs you currently use for billing or job costing. This allows you to get the necessary data and reports of time and expense tracking with a complete profitability scenario.
Lets you track expenses and mileage from anywhere and upload receipts even from your phone.
This app is capable of tracking all kinds of supplemental costs that go beyond normally reimbursable expenses. All of them can be linked to customers or jobs.
Integrated Human Resource System allows you to keep all your records in one place.
Pros
User-friendly interface
Great functionality
Strong customer support
Offers multiple ways of communication with employees
Cons
Does not offer many premium features
No offline time tracking feature
Pricing
Timesheets consists of 3 pricing plans: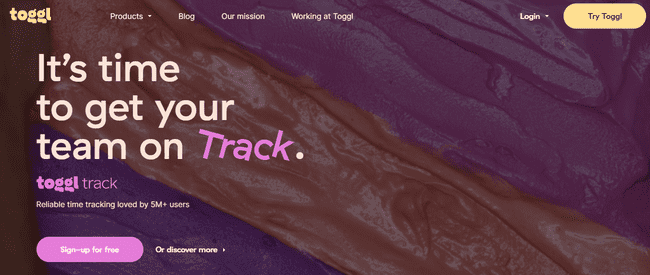 Source: Toggl
Toggl definitely tops our list of the best time tracking apps through its simplicity and affordability. For only $9 a month, you will be able to track your employees' activities. You can also monitor the time taken for every project.
Top Features
Toggl offers a feature called a 'One-click timer'. This feature will only take you one click to start a new time entry or to continue tracking a previous task.
If you miss the timer, the Toggl button and Toggl Desktop app remind you when you're not tracking. Additionally, Toggl detects idle time and lets you decide what to do with it later.
Toggl offers more than 100+ integrations. Integrations allow to put the Toggl Button inside the online apps. This allows you to start tracking immediately.
Additionally, Toggl's manual entries allow quick and straightforward time entry at the end of the day or week.
With calendar integration, you can turn your calendar events into time entries with just one tap on Toggl's mobile apps.
Toggl also offers brilliant reporting features. It lets you quickly filter your time tracking data. This shows you the information you need precisely.
Moreover, Toggl allows you to compare project progress to the estimated time with the Project Dashboard. You can spot problems early and fight off scope creep with easy-to-read visual data.
Besides, with Toggl, you can assign billable rates to your tasks and make sure you're paid fairly for all your work.
No matter which device you're on, Toggl syncs your data in real-time. So, you can start the timer on your phone, and stop it in the browser.
Pros
Sophisticated tracking system
Brilliant user interface
A large number of integrations
Shareable dashboard
Cons
Average customer support
Cumbersome Mac version
Pricing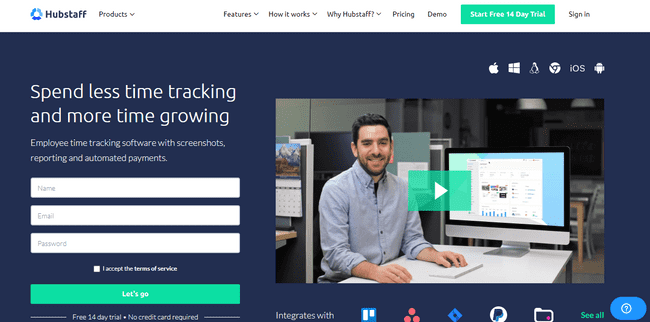 Source: Hubstaff
The next one in our list of the best time tracking apps for small businesses is Hubstaff. This software is beneficial for remote team management. It also has the feature of taking screenshots along with activity rates.
Top Features
Hubstaff allows your team to track the working hours spent on every project and task. You can start and stop the timer from Windows, Mac, Linux desktop apps, Chrome, or the Hubstaff web dashboard.
It allows you to supervise your team management time by getting detailed timesheets. You can get the timesheet in your email.
Moreover, through the Hubstaff dashboard, you can break down everyone's hours by client, view detailed timesheets, and simplify time management altogether.
You can also see who's on the clock and where they are with Hubstaff's GPS and geofence time tracking apps.
Additionally, Hubstaff lets you know each of your team members' activity rates and take optional screenshots to see work.
Moreover, you can set budgets or hours limits with Hubstaff's mobile timesheet app, and it will let you know when your team is getting close to the limit.
Hubstaff integrates with many project management solutions like Asana, Trello, Jira, etc. So you can observe what your team is working on and how much time they spend on each task.
To know more about project management tools, you can read this article on the best project management applications out there.
Pros
Enables you to set time and budget limits
Offers a number of integrations
Provides a complete package of features for time tracking
Can generate reports automatically
Cons
Complex user-interface
Does not consist of an electronic signature system
Prone to crash according to some user-reviews
Pricing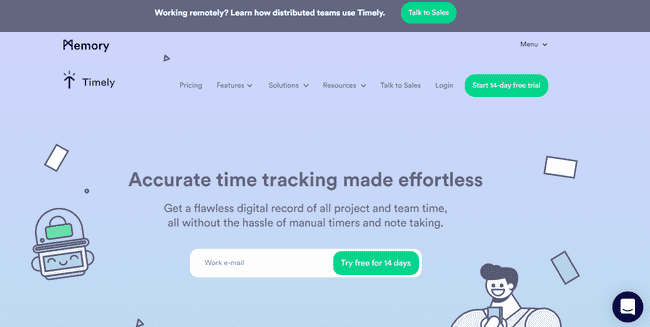 Source: Timely
Timely's intuitive user interface is what stamps it in our list of the best time tracking apps for small businesses. This software combines scheduling and time tracking into a single app. So, it gives you a calendar-like view of time spent on tasks. You can also log a manual entry and plan in advance the amount of time you expect to work for different projects.
Top Features
Timely can automatically record all the time you spend in different work apps to create a complete timeline of your day. Then, you can get its AI to draft accurate timesheets for you.
It also keeps everyone's work visible with real-time dashboards and synchronized schedules.
Moreover, Timely lets you review logged and missing hours, overtime, weekly capacity, and activities for everyone on your team.
Additionally, you can create and share detailed timesheets or reports in a few clicks for payroll, performance reviews, and invoicing.
You can also monitor team performance against key metrics, including billable percentage and capacity.
This app lets you visualize all planned work up to 60 days into the future from one beautifully clear timeline.
Besides, you can reduce scheduling to a matter of minutes using a clean, modern interface.
Pros
Brilliant user interface
Offers a graphical view of your timeline
Features an AI tracker
Cons
Relatively expensive for small businesses
Mediocre offline support
Pricing
Who Should Take The Trophy Home?
Amidst so many options to choose from, it actually all comes down to what your business really needs. Make sure you check all the features of an app before you decide it. These features should cater to your needs and be in line with your business objectives.
Which of these apps above do you think is the best time tracking app for small businesses? Let us know!