10 Best TimeCamp Alternatives Suggesions in 2021
Get a more in-depth look over the alternatives to TimeCamp. You may learn the details of each of the applications; the features, pros, cons, and reviews.
Are you interested to learn the TimeCamp alternatives? TimeCamp is a famous time tracking and productivity analyzing software in the time tracking market.
As there are thousands of applications in the time tracking, productivity, and employee monitoring field, we opt to find the best solution for our purpose.
In continuity, you might be keen to know the alternatives of TimeCamp. Whether you are a user of this app or not, you may be eager to target the best possible options that fulfill your demand.
For that reason, we are going to talk about the top 10 alternatives to TimeCamp.
The alternatives of TimeCamp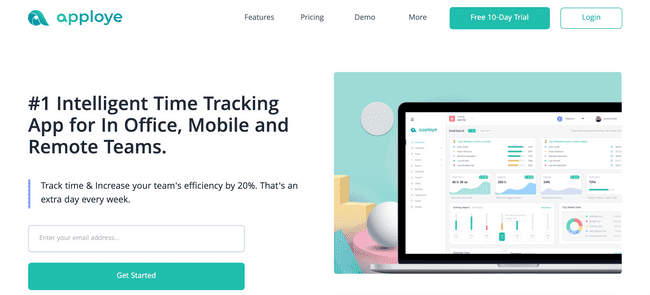 Source: Apploye
Apploye has an intuitive vision to create a high-yielding team no matter where they belong. Your team may work from office or home, local or global, in-office, or outside from office; you can synchronize each worker to balance and keep pace with others.
This is a time tracking, scheduling, employee monitoring, and productivity app that helps many organizations to make an agile, energetic, and proficient teams. Get a clear view of your time, what your employees are up to, and where your productive time is used.
Key Features
Time tracking- online and offline tracking, manual time entry,
Timesheet- customizable daily, weekly and monthly timesheet,
Employee monitoring- screenshots, activity tracking, apps and URLs tracking, GPS location tracker,
Payroll- one-time payment, hourly payment,
Scheduling- weekly and monthly schedule, leave tracking, shifting duties.
Reports- time vs. activity, app usage, URL usage, payroll reports,
Deployment- Linux, Windows, Android, Mac, Chrome, and Web.
Pros
The team management is very efficient as it increases accountability and transparency.
The dashboard is entirely arranged with essential elements to get a quick review of your personal and organizational progress.
The interface is straightforward and simple. The primary and advanced features make it compatible with all kinds of business organizations.
The price is so reasonable that all sizes and types of business organizations can afford it.
It has a swift and responsive customer support.
Cons
There is no iOS version.
The reports cannot be exported or shared.
There is no monthly reports.
Pricing
Solo: $4 per user per month
Standard: $5 per user per month
Premium: $6 per user per month
Elite: $7 per user per month
You can get a 50% discount on every plan if you pay annually.
Reviews
What does make Apploye an alternative to TimeCamp?
It is a very common question for those who are looking for an alternative to TimeCamp. Now, we are going to narrate how Apploye can be the best choice for TimeCamp alternative.
Usability: Many users have objected to the ease of use of TimeCamp. It is tough to use and needs time to understand the working procedure. On the contrary, Apploye is facile and easy to navigate.
Productivity Survey: TimeCamp doesn't have any activity tracker that can measure productivity precisely. Apploye provides activity level monitoring with detailed reports. You can overview the productivity level that will boost your focus and increase efficiency.
Pricing: Apploye is more reasonable than TimeCamp. Though TimeCamp has a free version for solo users, the features are limited and not enough for perfect tracking.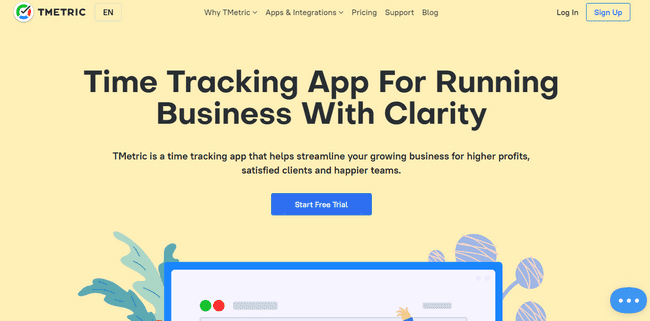 Source: TMetric
TMetric advances many business organizations with their time tracking, project and team management, billing and invoicing, reporting, and time off. You will have full authority over your work and team with just one-click.
It helps you to get an insight into the profitability and progress of your business. Remove the hassle of tedious paperwork and speed up the work process.
Key Features
Time tracking- timer, tags, timeline, idle detection, timesheet,
Reporting- summary or detailed reports, rounding, app, and web usage reports,
Project management- project breakdown, billable rates for projects, budgets, and recurring budgets,
Team management- web and app usage, screenshots, activity monitoring, payroll,
Integrations- GitLab, Jira, Redmine, Zapier, etc.
Deployment- Windows, Linux, Mac, iOS, Android, Chrome, Firefox, Edge.
Pros
Time tracking is very easy and rich in features. You can add breaks, track the time off, lock the timesheets.
The project management is quite handy with TMetric.
It is perfect for a small size team and available for all platforms.
Cons
There needs more variation in reports.
Sometimes the service is broken in the mobile version.
The notes are not well organized.
Pricing
Free: with limited features.
Professional: $5 per user per month.
Business: $7 per user per month.
Reviews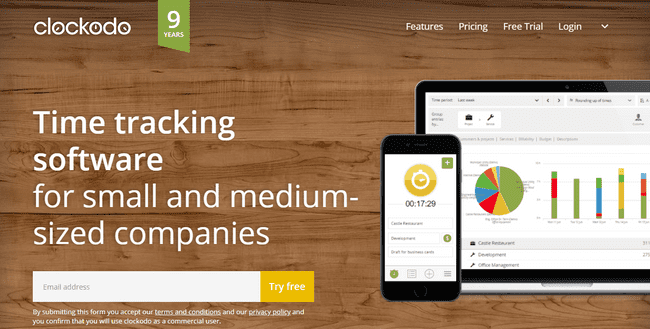 Source: Clockodo
Clockodo offers a flexible, quick, simple and reliable time tracking system for small and medium team. You and your team can record the working periods, break them into clients, activity and project, schedule holidays, vacations and track absence.
You can get a reliable review of working hours where you can see when your employees work and when they take breaks.
Key Features
Time tracking- stopwatch, billable and non-billable hours, multiple billing rates, timesheets,
Reports- individual reports, team reports,
Expense tracking- payroll, invoice,
Integrations- API support,
Deployment- Windows, Linux, Mac, iOS, Android, and Web.
Pros
The clockodo stopwatch can be used as a visible or hidden icon in the background.
It can link between the billable accounts.
It helps in client and project management.
Cons
It has very limited integration support.
The employee monitoring system is not good enough.
This is pricey for large enterprises.
Pricing
It costs $6.50 per user per month.
Reviews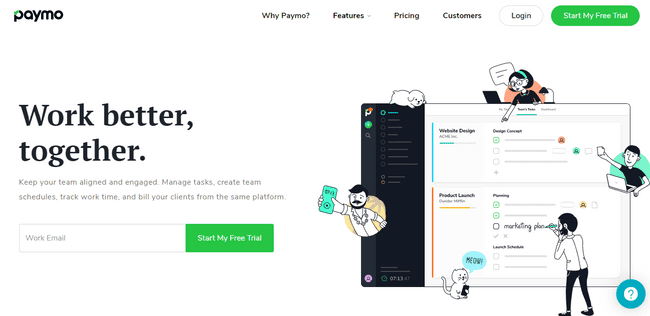 Source: Paymo
Paymo mitigates the team chaos by providing time tracking, scheduling, task management, and invoices in one platform. You can use it to ensure team engagement ever than before.
It replaces many tools so that you can sum up all your scattered data into a single place. It may improve the assessment capabilities of your organization. Improve the employer-employee relationship and transparency among them.
Key Features
Time tracking- timer, customize timesheet,
Team collaboration- planning, task management, chatting, notification, scheduling
Reports- Gantt chart, Kanban board, activity reports,
Integrations- Zapier, Slack, Xero, etc.
Deployment- Windows, Linux, Mac, iOS, Android, and Web.
Pros
It can convert the timesheet reports into a direct invoice.
You can see all the project status on a single Kanban board.
It helps to prioritize work with the priority selection option.
Cons
There need more reports for the invoice.
The dashboard should be more organized with the clickable monthly reports.
The mobile application is a little bit slow.
Pricing
Small office: $8.95 per user per month.
Business: $14.25 per user per month.
Reviews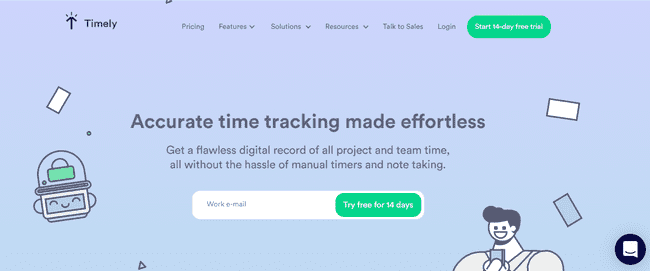 Source: Timely
Timely makes the project and team time tracking trouble-free. You can get a complete vision of how your team utilizes the time in every project. This automatic time tracker tracks hours spent in every work apps.
Timely AI converts the recorded data into timesheet and billable reports. It also offers team and project planning and time management.
Key Features
Time tracking- automatic tracking, timesheet, project, and team time tracking,
Project management- project planning, activity feed, task breakdown, bulk edit,
Team management- team planning, scheduling,
Integrations- ActiveCollab, Teamwork, Clubhouse, etc.
Deployment- iOS, Android, and Web.
Pros
The timely AI saves time logged for a specific project and provides an easy way to manage all tasks.
The interface is clean and the mobile version is updated.
It provides great customer support.
Cons
AI may create trouble if it is used for different projects.
The tag feature is not good enough.
It is a little bit expensive for individuals or freelancers.
Pricing
For companies:
Small: $49 per month
Medium: $199 per month
large: $449 per month
For individual
Moonlight: $7 per month
Freelancer: $14 per month
Professional: $23 per month
Reviews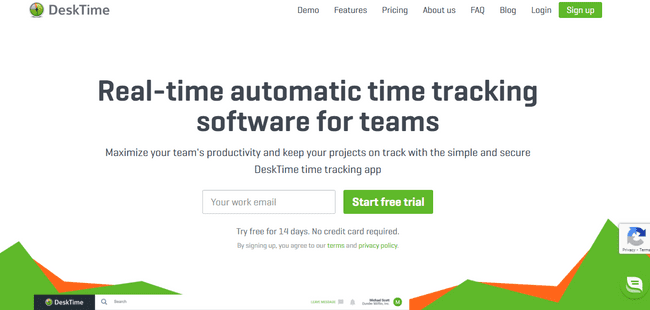 Source: DeskTime
DeskTime is an automatic time tracking application that has a main focus on employee productivity and maximum employee engagement. You can organize your work productively and manage your project.
It monitors your activity, tracks the application and website you use, makes in-depth reports, and helps you to schedule your employees.
Key Features
Time tracking- automatic time capture, offline time tracking, overtime calculation,
Employee monitoring- screenshots, apps, and URLs tracking, absence tracking,
Expense tracking- invoice, cost calculation,
Integrations- Jira, asana, GitLab, Trello, etc.
Deployment- Windows, Linux, Mac, iOS, Android, and Web.
Pros
DeskTime has a clean interface and can track online and offline mood.
The reports and productivity bar are very useful for organizations.
It can break the app and URL reports into productive, unproductive, and neutral categories.
Cons
Sometimes, it is complicated to switch between private time and tracking time.
It is a little bit pricey. There is a free version but with very limited features.
It is not suitable for individuals or freelancers.
Pricing
Lite: Free
Pro:$7 per user per month
Premium: $9 per user per month
Enterprise: $14 per user per month
Reviews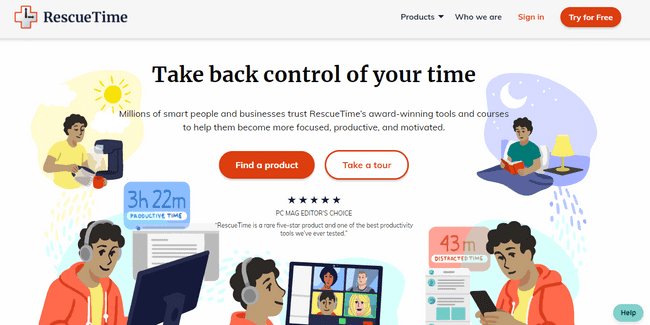 Source: RescueTime
Along with time tracking, RescueTime supports distraction management, team management, and productivity upholder. This productivity application has an automatic tracker without manual entry, an insightful reporting system, distracting website blocking, real-time alerts, and other vital features.
You can set goals and see the detailed reports on how you work to achieve the goal. It helps to ensure the maximum work done with minimum time spent.
Key Features
Time tracking- automatic and offline tracking, timesheet,
Employee monitoring- alerts, screen activity recording, idle time detection,
Reports- time reports, daily, weekly, monthly reports, productivity reports,
Integrations- Google Calendar, Slack, FocusTime, etc.
Deployment- Android, iOS, Web.
Pros
The software is convenient due to the customization option. You can categorize the working time into productive and unproductive time in your way.
The free version is sufficient for time tracking.
You can block the distracting websites and increase focus on work.
Cons
The mobile application needs to be improved.
It needs more features to be included.
Sometimes it blocks social media sites as distractions while you may need to work on the sites.
Pricing
Lite: Free
Premium: $12 per month
Reviews

Source: BQE Core
BQE Core is a smart application providing time and expense tracking, project management, and human resource. It offers flexible timesheet, effortless billing systems, timecards, and expert HR management.
Increase the worth of your time and money with this all-in-one application and streamline your corporation.
Key Features
Time tracking- flexible tracking. timesheet, timecards,
Expense tracking- automatic billing, invoicing, receipt capture,
Project management- project budget, scheduling, milestone tracking, Gantt Chart,
Integrations- Xero, Stripe, Dropbox, etc.
Deployment- Android, iOS, Web.
Pros
As BQE Core integrates project management, time, and expense tracking into a single platform, you don't need to switch over three different platforms.
It provides a flexible and multifunctional reporting system.
The real-time expense and time tracking are very helpful.
Cons
The project management feature needs some modifications.
There is no payroll service.
There need some customization options.
Pricing
$7.95 per user per month. You can pay for the features you need.
Reviews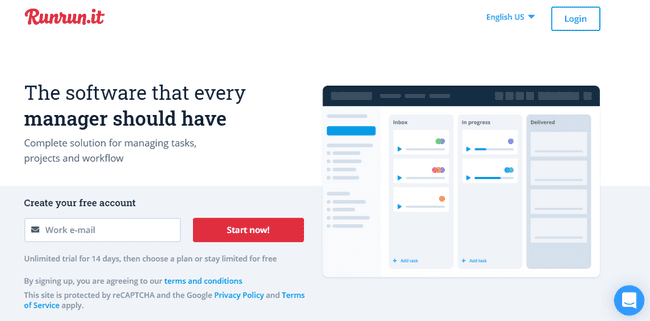 Source: Runrun.it
Runrun.it eases the project and task management, and workflow regulation. It is a cloud-based solution that helps professionals for business growth. Companies like marketing departments, consulting, IT companies, advertising, and many other agencies can use this software.
You can observe project progress in a clean dashboard. It will give you a review of which task is ongoing and which task needs more attention to meet the deadline.
Key Features
Time tracking- automatic time tracking, timesheet, dashboard,
Team communication- alerts, task management, file sharing,
Workflow management- reports, predictability, calendar management,
Integrations- Zapier, Trello, Google Calendar, etc.
Deployment- iOS, Android, Web.
Pros
It has a very smart feature called predictability, where you can predict the time to complete the project.
The application is very intuitive and flexible, with many learning resources.
It can show the percentage of daily activities for each project over time.
Cons
The reports are complicated to understand.
The manual time entry is a little bit bizarre.
It is sometimes troublesome to look into different projects.
Pricing
Free: Up to 5 users.
Business: $10 per user per month.
Enterprise: $25 per user per month.
Reviews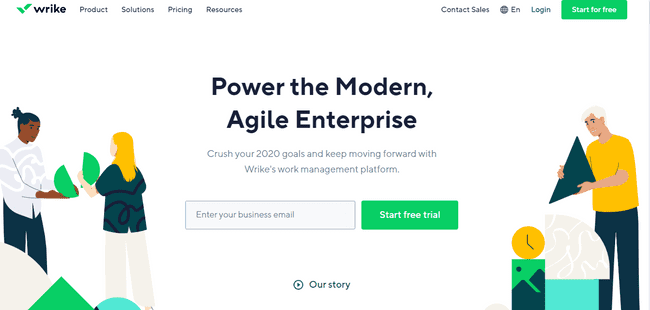 Source: Wrike
Wrike aims at transparency, productivity, and collaboration in the workplace. Therefore, it offers robust and versatile project management and employee monitoring solution for the industries.
It provides the topmost data security and full control over your data. You can ensure your remote employees plug into your firm without having so much stress.
Key Features
Time tracking- mobile time tracking, timesheet, vacation and leave tracking,
Remote team management- activity monitoring, time zone tracking, task management,
Employee monitoring- idle time tracking, alerts, productivity analysis,
Integrations- Salesforce, Tableau, MediaValet, Slack, etc.
Deployment- Android, Windows, iOS, Mac, Web.
Pros
It helps to build up internal communication.
The project management is very intuitive with Wrike.
It has a great reporting system.
Cons
This app is costly for a large volume of employees.
The time tracking system has some limitations.
The interface is not user-friendly.
Pricing
Free: for 5 users.
Professionals: $9.80 per user per month
Business: $24.80 per user per month
Enterprise: Contact with the vendor.
Reviews
Conclusion
After reading the apps' details above, it may be easier for you to choose the best TimeCamp alternative. However, you may get to know about Apploye for being one of the best choices.
For more information about Apploye, contact the experts of the Apploye team, or give a free trial for 7 days.