The Best 10 TMetric Alternatives in 2021- Apploye
Get the best 10 alternatives to TMetric. You can know their features, reviews, pricing, and more. Find Apploye as the best option for the alternatives.
The growth seekers are continually searching for alternative solutions to applications, devices, and methodologies to get the ideal match for their purpose. Looking for TMetric alternatives is not excluded from them.
TMetric is a time tracking solution that helps in business growth and ensures profit, satisfaction, and content. But it may have some flaws. Also, you may find some other options that may alternate TMetric and suit more with your business.
In this article, you may observe the best 10 alternatives to TMetric with their details.
The details of TMetric alternatives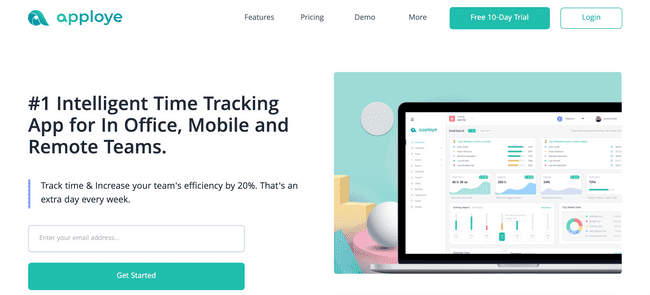 Source: Apploye
If you want to be a productivity hacker, Apploye would be a great choice. Apploye serves as an all-in-one platform for tracking, monitoring, and analyzing. The purpose of Apploye is to serve all the business corporations to reach their goals with a higher productivity rate.
It helps startups and entrepreneurs to build a nimble workforce with less effort and fund. You can use this app to supervise your part-time and full-time employees.
Key Features
Time tracking, offline tracking, manual time entry,
Customizable timesheet, daily, weekly, bi-weekly, and monthly timesheet,
Smart scheduling, attendance tracking, shifting duties,
Screenshots, apps, and URLs tracking, activity tracking, GPS location tracker,
Various reports including time and activity, application usage, URL usage, payroll,
Payroll with a one-time payment, hourly payment,
Available in Windows, macOS, Linux, Android, and Chrome extension
Pros
The dashboard is clean, simple, and has a smart representation to understand easily.
You can use it to monitor all employees whether they work from the home, office, or outdoor.
The app is very intuitive and tracks your productive time individually for the specific project and task.
It gives a full overview of how your organization is running and the performance of each employee.
The price is pretty fair in compliance with its features and performance.
Cons
The iOS app is missing.
It has a very limited integration but soon it will be integrated with Trello, Asana, ClickUp
Price
Solo: $4 per user per month
Standard: $5 per user per month
Premium: $6 per user per month
Elite: $7 per user per month
Reviews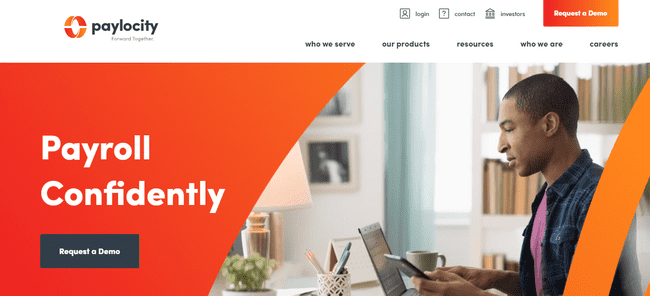 Source: Paylocity
Paylocity mainly provides payroll and expense management. It also boosts workforce management by time and attendance tracking and human resource management. As you can see the workforce's diversity, it is troublesome to regulate all the employees at a time.
Paylocity provides the management tool to line up all the scattered employees. Get insightful data to empower your employees and business.
Key Features
Expense management, tax services, on-demand payment, garnishment managed services,
Time and expense tracking, scheduling, time clock,
Biometric reader, thermal scan, badge reader, geofencing,
Ameritas, Ascensus, Aspire, API, etc.
Available in Android, iOS, Web.
Pros
This app is excellent for payroll management.
The customer service is praiseworthy.
It provides incredible HR support.
Cons
The interface is a little bit difficult to use.
The features like expense modules and performance management can be improved.
The reporting system has very limited features.
Price
The price is not provided by the vendors.
Reviews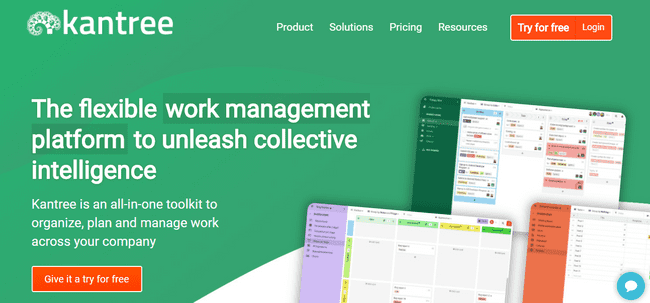 Source: Kantree
Kantree is an all-in-one work management tool for business organizations to plan, manage, and organize the workforce. It helps the agencies, startups, remote and marketing teams by project management and human resource.
It can be an excellent alternative to TMetric. The software provides a space to handle all the troubles of managing spreadsheets confidently.
Key Features
Time tracking, timeline, Kanban board, dashboard
Customizable reports, cumulative flow diagram, workload chart, burndown chart,
Milestone tracking, portfolio management, collaboration tools,
Integration with Slack, Dropbox, Gsuite, Zapier, etc.
Available on Web.
Pros
It provides real-time communication in different time zone area.
You can customize the fields of cards, and use the card hierarchy.
It helps to manage the large scale projects.
Cons
It has a lack of advanced interface.
It has no standard reports.
There is no fundamental resource management.
Price
7 euro per user per month.
Reviews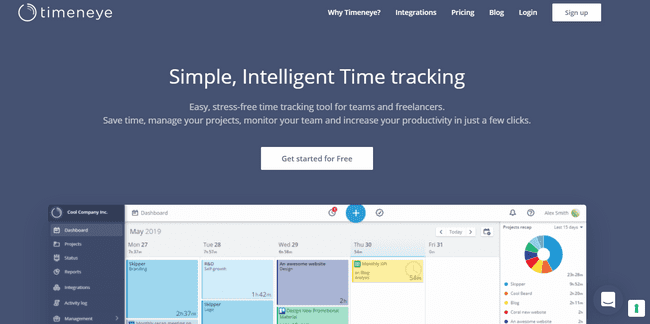 Source: Timeneye
Timeneye provides a simple and easy tracking tool to freelancers and teams. You can retain your time, boost your productivity, and keep your team on track. It helps to control the project budget, monitor the project status, and set the project goal.
Track your time, get an automated timesheet, and manage your resource successfully with Timeneye.
Key Features
Time tracking, timesheet, billable and non-billable hours tracking,
Project budget, Budget notification,
Email notification, calendar view, roles, and permission,
Integrated with Asana, Basecamp, ClickUp, etc.
Available in Android, iOS, Web.
Pros
The software can be easily adapted and light-handed.
The reports are very comprehensive and well organized.
It provides an intuitive time and project tracking.
Cons
The support team is not responsive enough.
There is no dedicated app for desktop, and sometimes connecting the app through the web is troublesome.
The mobile application needs to be upgraded.
Price
It costs $7 per user per month.
Reviews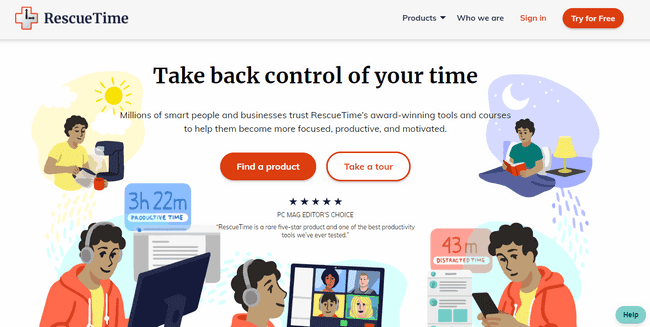 Source: RescueTime
RescueTime helps to utilize productive time by increasing the focus and motivation. It enables the team and individuals to be on rail and give the utmost dedication to work.
This automatic tracker runs in your device's background so that you can concentrate on work without distractions. You can get your productivity reports and offline time reporting. Cut off your distractions with the distraction blocker.
Key Features
Automatic tracking, offline tracking, document, and project tracking,
Weekly, monthly, and annual time and productivity reports,
Goal setting and real-time alerts, 'work-hours' filter
Integrated with Slack, Calendar, etc.
Available in Windows, Linux, Android, iOS, Web.
Pros
RescueTime block distraction management is very helpful.
The customization process to differentiate productive and non-productive time is amazing.
The free version is sufficient.
Cons
The mobile application needs improvement.
The reports have some limitations in detail.
The interface is not user-friendly.
Price
Lite: Free with basic tracking features.
Premium: $12 per month.
Reviews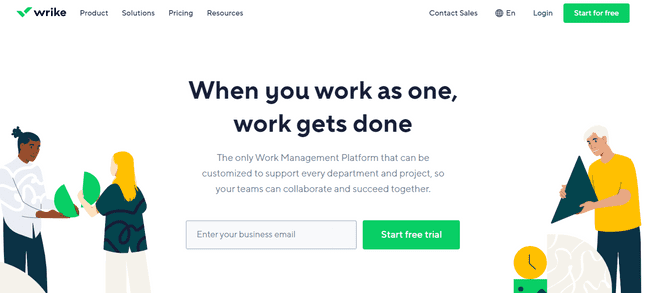 Source: Wrike
Wrike is designed specially to support the remote team. The main advantage of this app is to provide a single platform to support all projects and departments. It helps you to build a work community with transparency, better collaboration, and productivity.
Find the potential barriers and sort out them quickly. You can get complete control of the company's information without concerning the security.
Key Features
Time and time zone tracking, timesheet, vacation and leave tracking,
Idle time monitoring, productivity analysis, activity monitoring,
Gantt chart, scheduling, reporting, task management,
Integrated with Salesforce, Tableau, MediaValet, etc.
Available in Windows, Android, Mac, iOS, Web.
Pros
It eases the task management.
The remote team management is pretty helpful.
It provides a lot of integrations.
Cons
The UI is difficult to understand.
It is expensive for large organizations.
The reports are not shareable.
Price
Free: for 5 users.
Professional: $9.80 per user per month
Business: $24.80 per user per month
Enterprise: Contact with the vendor
Reviews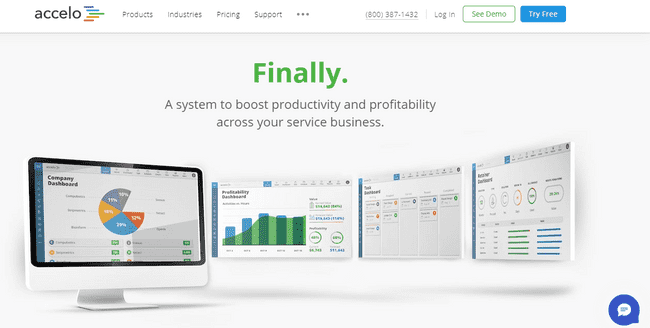 Source: Accelo
Accelo offers an all-in-one service management tool to plan your work, track the progress, and deliver the output to your client. This automation tool helps you to grow your business.
It is used by thousands of business organizations and can be one of the best solutions for the TMetric alternative. The advanced features like skill tagging, resource allocation have a significant impact on streamlining your business.
Key Features
Project management and collaboration with Gantt Chart, Kanban board, portfolio management,
Team inbox and scheduling, prioritization, milestone tracking,
Automatic time tracking, expense tracking, project time tracking,
Integrated with Jira, Stripe, Slack, Xero, etc.
Available in Android, iOS, Web.
Pros
It is beneficial for budget tracking and project management.
The graphical reports on billable hours tracking are easy to figure out.
It helps to coordinate the remote teams with scheduling and task management.
Cons
As it has a lot of features, it is difficult to navigate.
The mobile function has some lack of features.
The email organization should be more systematic.
Price
Starts from $39 users/ month for minimum 3 users.
All-in-one ServOps is $79 users/ month.
Reviews
Source: Jibble
If you are looking for a free alternative to TMetric, you can try Jibble. It has basic features like time and attendance tracking and some advanced features like timestamps, geolocation, facial recognition, etc.
It is suited for all kinds of industries like manufacturing, healthcare, education, hospitality, construction, etc. Improve your work power and get the best outcome with Jibble.
Key Features
Automatic time capture, billable and non-billable hours, offline time tracking.
Timesheet, reports, alerts, time clock, attendance tracking,
Payroll, facial recognition, GPS location tracker,
Integrated with Slack, MS Team, etc.
Available in Mac, iOS, Windows, Android, Web.
Pros
It is free for unlimited users.
The interface is straightforward, convenient, and easy to use.
The pricing is very reasonable that it suits all types of business organizations.
Cons
The customer support is poor.
Geolocation needs to be improved.
The chrome extension needs some extra features to include.
Price
Attendance: free for unlimited users.
Attendance Pro: $1.50 per user per month
Desktop Pro: $3 per user per month.
Reviews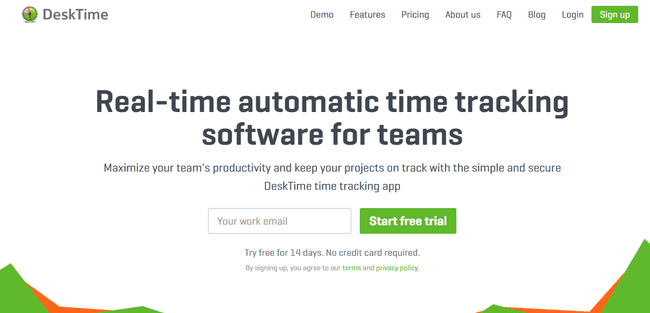 Source: DeskTime
If you are bored with conventional time tracking application, you can try DeskTime. It provides a real-time automatic tracker that runs in the background of your device. It helps to hold a proper concentration on work without concerning the tracker to start and stop.
The priority of DeskTime is to measure and increase employee productivity. It also has a time tracker, attendance tracker, and employee monitoring.
Key Features
Automatic time tracking, offline tracking, and Pomodoro timer,
Document title tracking, private time option, absence tracker,
Invoicing, cost calculation, shift scheduling, apps, and URLs tracking,
Integrated with Trello, Basecamp, Jira, etc.
Available in Mac, iOS, Windows, Android, Web.
Pros
It has a customization option so that you can organize it according to your need.
The dashboard is well organized.
It helps to motivate the team to work more productively.
Cons
The reporting system is complicated.
The reports should be more conventional.
Sometimes it hampers personal tasks.
Price
Lite: free for one user.
Pro: $7 per user per month
Premium: $9 per user per month
Enterprise: $14 per user per month.
Reviews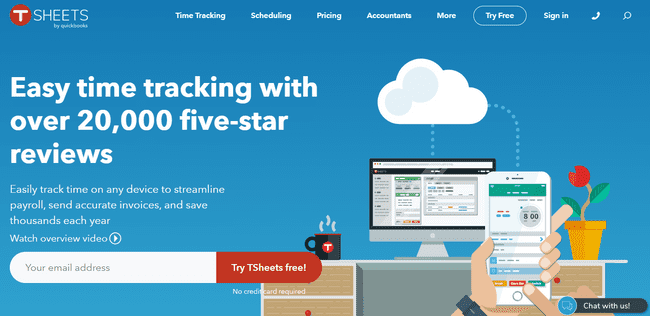 Source: TSheets
It is time-consuming to make accurate payroll and invoice reports. TSheets is a great solution to get precise payroll and invoice along with time tracking and scheduling.
It also helps to align the team with the current projects, increase employee participation and interaction. The mobile app and time clock makes it useful for small and large companies, consultancies, and organizations.
Key Features
Time clock, mobile time tracking, offline time tracking,
GPS location tracker, time card, project tracking, alerts,
Team management, job, and shift scheduling,
Integrated with Xero, Quickbooks, Sage, etc.
Available in Android, iOS, Web.
Pros
It helps to track time easily with the time clock and time card.
The breaks can be easily adjustable.
The mobile apps are well developed.
Cons
It is a little bit costly.
It may have bugs to fix.
The GPS feature needs improvement.
Price
Premium: $8 per user per month
Elite: $10 per user per month
Reviews
Conclusion
It is not easy to detect the best solution for your company. However, you should consider some aspects like your team condition, budget, the purpose you serve, and others to choose any time tracking software.
You can pick Apploye as a TMetric alternative because of its simplicity, ease of use, features, and different pricing plans. Give a free trial to Apploye for 7 days.