Apploye Recognized as Top Rated Employee Monitoring Software
SoftwareWorld has listed Apploye as one of the best employee monitoring software in 2021. The monitoring features are very intuitive and advanced. Try Apploye to get the best employee monitoring service.
Employee monitoring software is a blessing to the business and organizations. Entrepreneurs and business owners are randomly seeking some of the best employee monitoring tools. Keeping in mind the urgency of the employee monitoring tool, SoftwareWorld has published the top 10+ employee monitoring software of 2021 (Free & Paid).
It has acknowledged Apploye as one of the best employee monitoring software on this list. SoftwareWorld is a software reviewing site that assists business houses in choosing the best tool to get the maximum output.
Apploye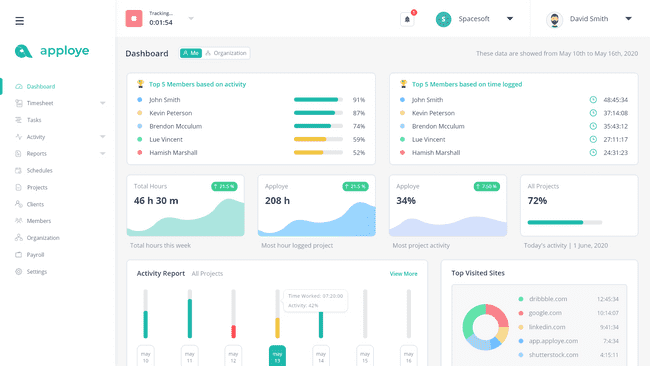 Apploye is one of the most dedicated apps to provide premium employee monitoring tools. Over the years, it is working continuously to support a transparent monitoring system. It helps to boost productivity and ensures employee engagement. Apploye comes up with some intuitive monitoring features. These features would help you not only monitoring the in-office employees but also oversee the remote employees. Keyboard and mouse movement provides the activity percentage that means you may see how productive your employees are. Random screenshots allow you to observe what's going on the employees' computer. Apps and URLs tracking gives you the idea of where the time is utilized. GPS location tracker helps you to observe the movement of outdoor employees.
The Top Employee Monitoring Features of Apploye
Apploye has some modern features used for employee monitoring. These features are functional and advanced to oversee employee activities. These features of monitoring include-
Screenshots
Apps and URLs tracking
Activity tracking
GPS location tracker
Screenshots:
Apploye takes random screenshots at every 10-minute interval. It will help you to oversee what is going on the employees' computers. You may customize the project and task, date, and member for in-depth observation.
Apps and URLs tracking:
Apploye tracks the app and website used during working hours. You may see complete reports on which apps and sites are used, how much time spent on them. You may see the reports for a specific task or project.
Activity tracking: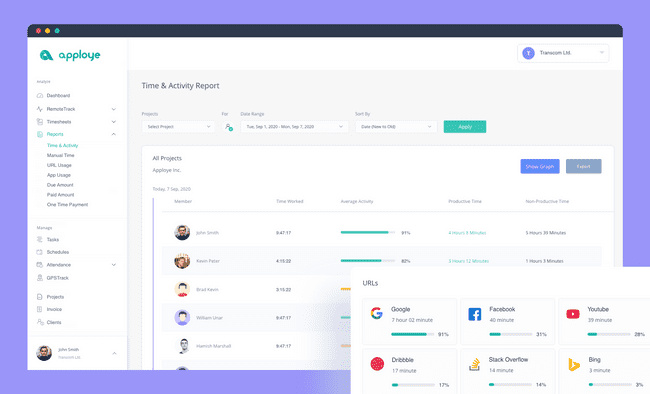 Apploye provides a productivity survey based on mouse movement and keystroke tracking. It shows the productive and unproductive reports. You may find who is more productive during the working hours.
GPS location tracker:
Employee monitoring is completed thoroughly with location tracking. You can observe the movements of outdoor employees.
Apart from these features, Apploye provides the top time tracking facility. The more you'll get from Apploye are scheduling, payroll, timesheets, reporting, invoicing, project billing, and budgeting.
The Apploye pricing plan is so reasonable that it is suitable for startups and small business agencies.
It's very cordial gratitude to SoftwareWorld for recognizing Apploye as best employee monitoring software and giving such a prominent position. Apploye team welcomes this opportunity humbly.