SoftwareWorld Featured Apploye in Top 10+ Time Tracking Software in 2021
A token of gratitude to Softwareworld for recognizing Apploye as a top-rated time tracking software in 2021. Check the reviews of Apploye in Softwareworld.
It's an immense pleasure to announce that Apploye is recognized as the Top 10+ Time Tracking Software in 2021 (Free & Paid). This list of top time tracking apps is made by SoftwareWorld.
The list of top-rated time tracking software enables the business and marketers to sort and choose the best time management tool for their business. It shows the significant attributes of software, including its features, pricing, and advantages.
SoftwareWorld is an amazing site to get authentic reviews of the software you intend to use. It helps the small and mid-size companies to get the right tools for the consistent growth of their business. It showcases the features, pricing, reviews of the tools under different categories like time tracking software, project management tool, accounting software, expense management, process management, and many more.
Apploye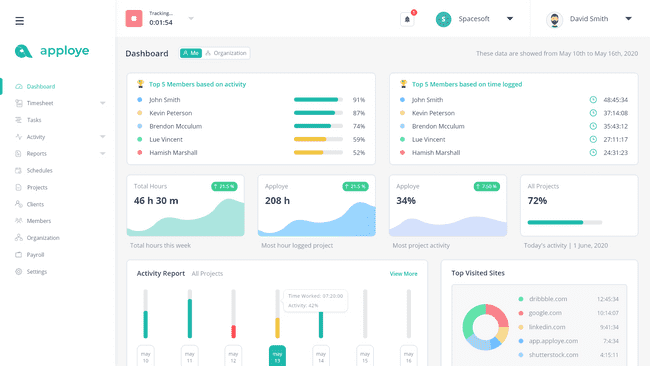 The fact that Apploye owns the place in the top list is its capability to serve the right and functional time management tools as well as employee monitoring platform. It not only eases the automation of productivity analysis but also helps the consumers to maximize time utilization.
Easy interface, simplicity of use, packed and specific features are the specialty of Apploye. You may have customizable timesheets, apps, URLs, and activity tracking, project budgets, team and client management, field service with GPS tracker, scheduling, invoice, and payroll management in one frame.
Last but not least, the reasonable pricing plans make the Apploye flexible for the customers. The team of Apploye is genuinely thankful to SoftwareWorld for appreciating the continuous and consistent effort.