10+ Best Virtual Assistant Companies in the Philippines (2021)-Apploye blog
Are you looking to hire a Virtual Assistant in the Philippines to get more job done while you can focus on your top priorities? You can check out our top 10 selection of Virtual Assistant companies in the Philippines.
Virtual Assistant Companies are the platform to which you can outsource your work. They can efficiently complete your work and deliver you desired results while you can save money. Nowadays, Virtual Assistant Companies have scattered their branches all over the world as the distance is not a barrier to your daily works and can be done by anyone from anywhere with a computer connected to the internet.
If you're preparing to hire a Virtual Assistant but can't figure out where to start, check out our step by step Everything you need to know before hiring a Virtual Assistant.
Virtual Assistant Companies in the Philippines are growing and doing better by receiving projects from around the world. The Philippines has had a steep growth in outsourcing for the last ten years. It has also gained a higher reputation for its best remote workers with cheap labor costs. And for this reason, Virtual Assistant Companies from developed countries like Canada and the USA have their branches in the Philippines.
Why Virtual Assistant Companies from the Philippines?
According to a study done by Onlinejobs .ph, the Philippines offers one of the most reasonable rates for full-time Virtual Assistant at $400 per month compared to the USA, where the average Virtual Assistant Salary is $4,000 per month.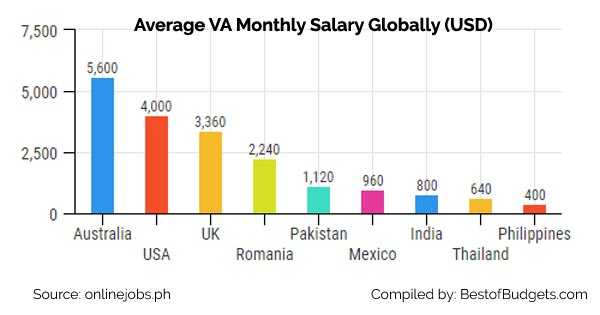 There are also other reasons attached to it. The Philippines has gained the "offshoring destination of the year" award three times, and again, this country is one of the largest English-speaking countries. The people from this culture seems product service-oriented. If you're from western countries, you can have easy sync with them. Living cost in the Philippines is less than in other countries; you can get remote workers at a low price comparatively. Big companies like Ford, Nestle, IBM have their virtual Assistant working for them from the Philippines.
Now let's jump into our top ten selection of Virtual Assistant Companies in the Philippines:
1. WoodBows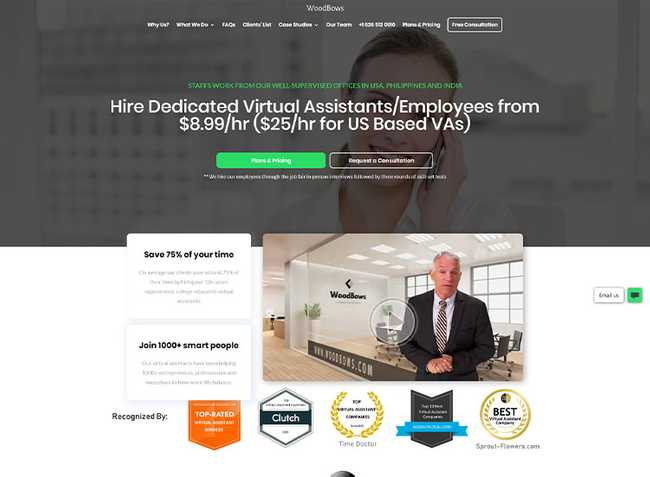 WoodBows is one of the most popular, reliable, and recommended Virtual Assistant Companies in the Philippines. It has been granted as the top Virtual Assistant company by NBC, FOX, ABC, and CBS News. This company started with a small group of individuals; more than 200 employees are currently employed by WoodBows, who are serving hundreds of thousands of organizations and startups around the clock.
Unlike most of the listed companies in this article, WoodBows lets you choose your virtual employee and test them for a week. If you're happy with their performance, you can move forward with their service, or if not satisfied with their performance, you can request a replacement. WoodBows is also listed as one of the top 5 virtual assistant companies in the world.
The fields WoodBows mainly serves are:
Real estate help,
Software development,
Mobile app development,
24/7 virtual assistant services,
Digital and social media marketing,
Data entry,
Customer supports,
Content writing and
Graphic and web design.
All of their virtual assistants are fluent in conversational English. Their main aim is to make you feel like you have an in-house employee.
2. Task Bullet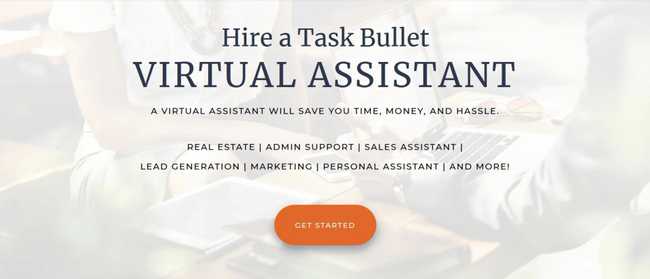 Task Bullet is a US-based company that also has offices in the Philippines and Manali too. It provides Virtual Assistant services to entrepreneurs and executives worldwide, including assistance in Real estate, lead generation, sales assistant, personal assistant, marketing, etc. The company is committed to the assurance of streamlining your business process effectively.
Their plans and pricing are slightly different from other virtual assistant companies, which they call bucket systems. In this system, you'll be buying some hours instead of a project or virtual employees. If you're comfortable with this system, you can hire this company to get your job done. This company offers you a money-back guarantee.
After purchasing the Bucket System, the company will be delivering you an app from which you can communicate with your virtual assistant and delegate them the tasks by which your work can be organized and be updated about your project progress.
Check out how their Bucket System works →
3. VirtualCoworker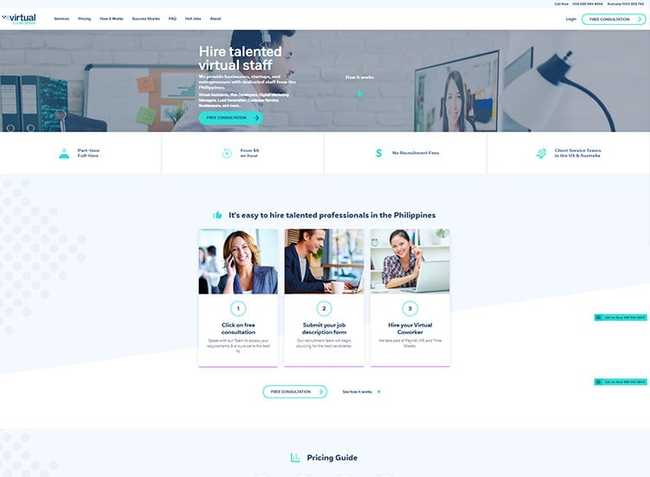 VirtualCoworker is also another popular name among the Philippines virtual assistant companies. They are a startup that is above and beyond your regular virtual assistant services.
The difference between VirtualCoworker and other traditional virtual assistant companies is that they hire people on demand, making their hiring virtual assistant process a piece of cake. When you contact them, they will share some of their most incredible resumes with you. When you are done selecting the perfect virtual assistant for you, they'll get all the paperwork done and set the virtual assistant's profile for you to communicate.
Get started with VirtualCoworker →
4. OnlineJobs .ph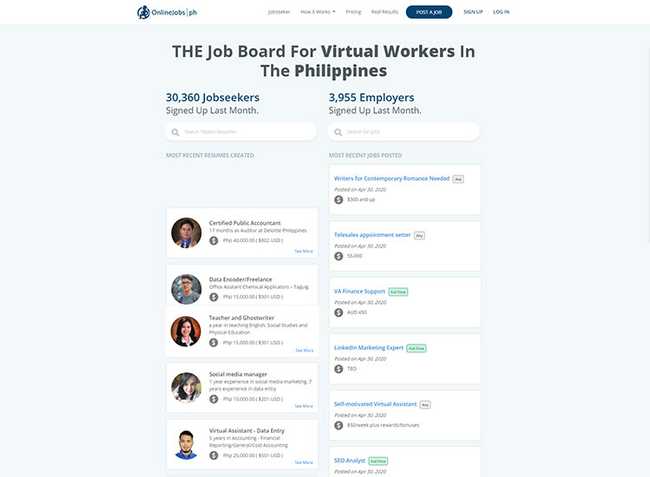 If you're looking for a site that lets you hire multiple virtual assistants in the Philippines without dealing with a virtual assistant agency or a middle-man, then OnlineJobs .ph is the best choice in the market right now.
The only problem of working directly with a virtual assistant is that you'll have to set everything up all by yourself or by your agency, from payment policies to time tracking and hiring processes. Besides this, you'll get an equally talented virtual assistant from the Philippines who will work around the clock.
5. VA Staffer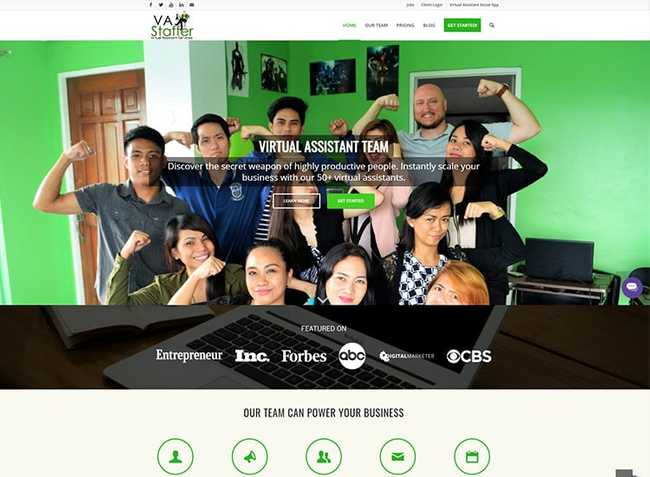 VA Staffer is a Philippines-based virtual assistant company specializing in delivering administrative duties, marketing, and research-related services. This is the perfect virtual assistant company for those who are dealing with tremendous market research and online presence.
They also provide a project management service. With this platform, you can delegate tasks, upload project-related files, start discussions with your virtual employee, integrate your Gmail account, and get your virtual assistants' contact details. You can even also upgrade your account and ask for more virtual assistants if you need them.
6. FreeUP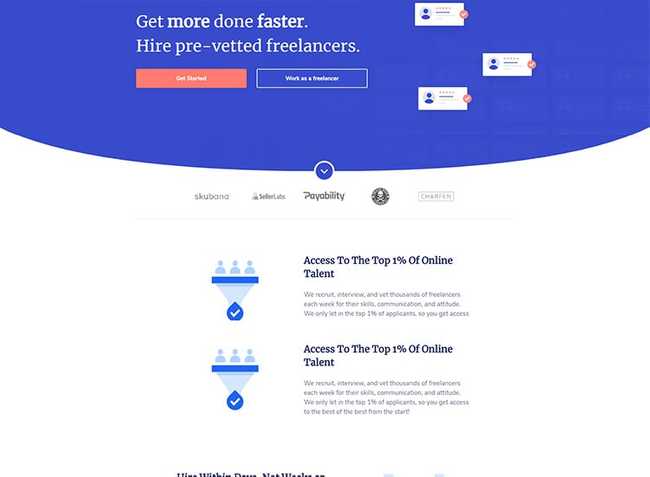 FreeUp is more like a freelance network that provides the best talented virtual assistant in the market. From full-time employees to part-time workers, FreeUp can assist you in solving a variety of your hiring remote employees related problems.
Being a freelance network, FreeUp provides many services such as data entry, Shopify store development, customer service, marketing, SEO, graphic design, copywriting, social media marketing and management, and much more.
The downside of this VA providing platform is that you'll have to deal with their terms of conditions that depend entirely on the freelancers whether they'd like to continue with your project or company once the given task is completed. If a freelancer discontinues your agency, then you'll have to do the whole hiring process from scratch.
If you're someone who doesn't need a long-term employee and wants some tasks completed, FreeUp is the right choice for you.
7. Bottleneck Virtual Assistants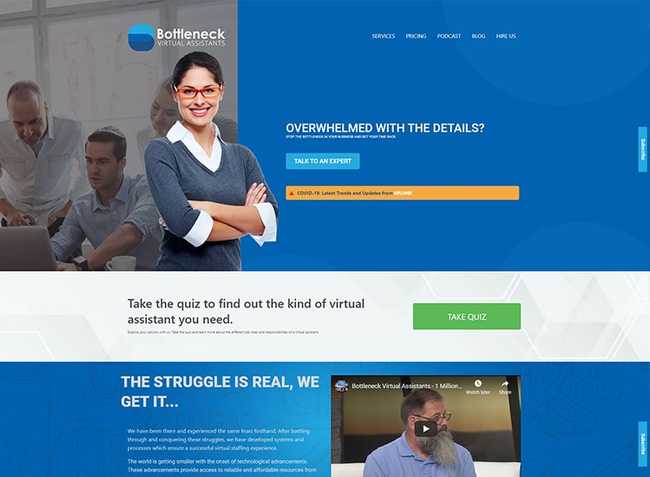 This platform provides a quiz that can help you figure out if you need a virtual assistant, and if you need one, what type of virtual assistant would be best for your business needs.
This is a great way to appeal to a customer. With this quiz, Bottleneck Virtual Assistants get all the necessary information that they'll need to set you up with one of their talents. You can start within the first 48 hours with your tasks on this platform.
8. 7 Virtual Assistant Services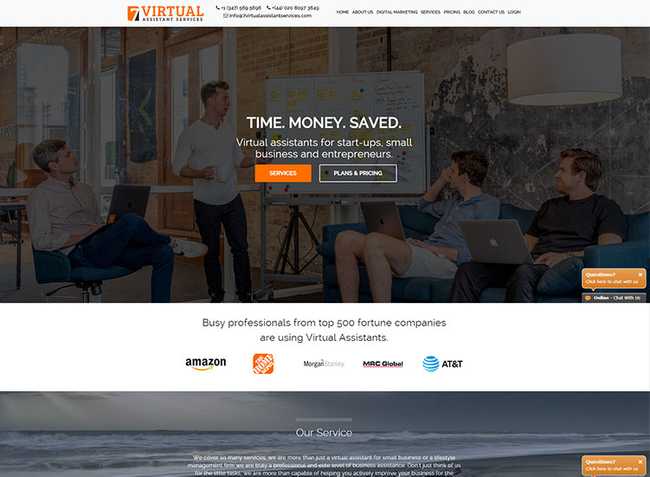 A virtual assistant service platform that focuses on providing the best service possible at a very affordable price. This platform helps you in every administrative task that can be done remotely, from web development to real estate and anything that fits in between. 7 Virtual Assistant services can be the only VA company you'll ever need.
This is one of the cheapest virtual assistant service provider companies on this list. It is offering 20 hours for just $199 per month. This company is budget-friendly and will attract many startups and agencies that want to keep the hiring expenses to the minimum.
Sign up for 7 Virtual Assistant Services →
9. MyOutDesk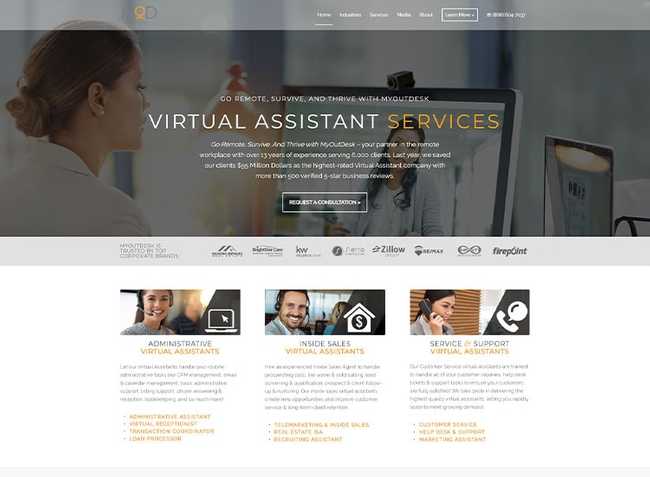 MyOutDesk specializes in delivering real estate virtual assistant services. Its virtual assistants are highly trained professionals who will help you boost your real estate business revenue without spending so much money on marketing and cold calling.
One of their top services is real estate ISA, virtual receptionist, transaction coordinator, customer service, loan processor, telemarketing, and more. Besides this, they also deliver dedicated services in content marketing and the property business industry.
From establishing your presence online to writing content for your blogs, this platform will assist you in building your brand online without spending on human resources and development.
10. SupportNinja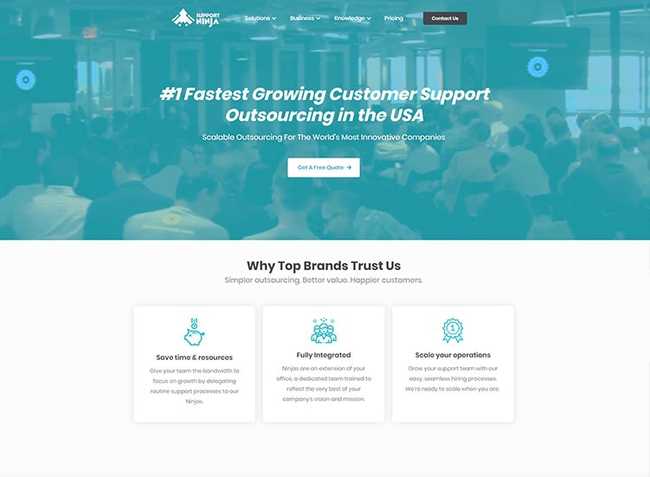 Suppose you're not looking for a single employee but a whole agency with multiple virtual assistants to handle more than one task daily. In that case, SupportNinja is undoubtedly the best option for you. With customer support services, content moderation, lead generation, and back-office admin tasks, SupportNinja is one of the best virtual assistant services for online entrepreneurs, e-commerce websites, and bloggers.
They provide a dedicated quality guarantee team. You'll never have to worry about low-quality service or disruption. If something goes wrong, you can immediately get the issue resolved. Their teams are specially trained in Salesforce, Zendesk, Freshdesk, and more.
Get started with SupportNinja→
11. GoHireNow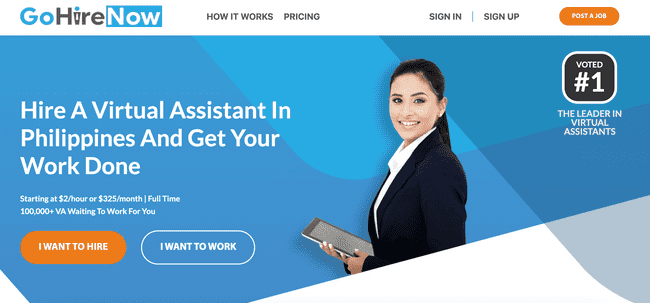 The best way to find the best Filipino virtual assistant would be to look in the right place. Because of this, you can check out GoHireNow as a great starting point.
GoHireNow makes sure that both employers and virtual assistants are happy. The processes for both hiring and applying for jobs are seamless and easy. The best part is, GoHireNow makes sure that employers get their money's worth, while also making sure that virtual assistants are paid well for the work they put in.
To choose the best tools for your virtual assistant, read our extensive article on virtual assistant software tools.
In Conclusion
In this article, we've listed the top 10 virtual assistant companies in the Philippines. All the above-listed companies have their own distinct features designed to help you hire the most talented remote employees who'll get your job done.
So, why are you waiting? Pick one of these and solve your human-resource-related problems without breaking your bank.