9 Best Mac Time Tracker to Skyrocket Your Productivity in 2019
A desktop-based working system has both the probability of higher productivity and distraction. As you can access the virtual world of unlimited entities, you can get interfered while working on desktop. Social media, chatting, entertaining videos are so common obstacles that people get into it. Once you are in this kind of application, you totally forget about the hours that you are passing by. This causes great damage to your productivity.
However, you probably quest for any solution that would track your time, analyze your work and measure your productivity. As people are more used to work on desktop, they are more curious about the software or application compatible with the desktop.
Windows is one of the most used operating systems in the desktop platform. Here, I will discuss some time tracking apps competent for windows. So, let's check it out.
Apploye is a very user-oriented time tracking tool. In spite of tracking time, it can monitor the employee and productivity. It is a great surveillance tool to track the activities of an employee during the office hours.
It takes random screenshots at a 10-minute interval. Not only screenshots but also it tracks the URL visited, application usage and field service GPS location tracker for remote employees. The task management is very easy with Apploye. You can divide a big project into small parts and assign each part to a specific person. The reports can be shared to clients to clarify all the details of work. The timesheet shows all the details of work according to the time spent on each task. You can add multiple tasks and find a comparison of the time spent on all of them. This would help you to understand which task needs more importance to finish.
It has three plans- unmonitored, monitored and enterprise. The unmonitored plan has basic features like time tracking, employee scheduling, budgeting, project and task management. The monitored and enterprise are the advanced version comprising activity level monitoring, screenshot, advanced custom reporting, VIP priority support and so on.
Pricing: Unmonitored version $3.00 per user per month. Monitored version $6.00 per user per month. Enterprise version offers customized price.
Hubstaff provides free service for one user with the very basic features like time tracking, activity level, limited screenshots and payments. Besides a time tracker, it is well known as an employee monitoring tool. It is harmonious with Windows in interfacing.
Hubstaff facilitates employee scheduling virtually. You don't need any paper or spreadsheet. Schedule distribution, shift planning and clocking are more flexible in the Hubstaff interface. The productivity tracker helps to rate daily activities like apps and URLs tracking. Hubstaff provides a report as a summary of the effectiveness of the employees. It also has an API and integrations. Hubstaff provides free service for one user with the very basic features like time tracking, activity level, limited screenshots and payments. Besides a time tracker, it is well known as an employee monitoring tool. It is harmonious with Windows in interfacing.
Pricing Free for one user. Basic for one user $5/month. Premium for one user $10/month.
Timeular is a simple time tracking solution. The unique thing about Timeular is that it has hardware and software. That means it provides a time tracker application and a physical device. It will precisely measure your time spent in every task with detail report.
It provides automatic time tracking, billable and non-billable hours tracking, timesheet management, visual reporting and reminders and so on. It provides tags to classify the time entries. You can easily get an overview of the time passed in each activity.
The windows version is very easy to navigate. The dashboard is very interesting with different color codes. Each color code represents each task. So, the color intensity indicates the used hours in the overall working hours.
Pricing: The basic price starts from $49, the most popular module Pro is $54 and the most advanced Lifetime Pro is $299.
If you are looking for an absolute free time tracking application, Grindstone is for you. Despite cost-free, it provides all the required features enough for your time tracking purpose.
It divides your task in the work item. The time spent on each work item is called a time slice. Grindstone saves the entire time slice wherever you start to work. You can also enter many work items at a time. Each item has a name and a field in general. You can make notes in the field whatever you need. If you need an extra field for new information, you can create an extra field called properties.
All these functionalities make Grindstone flexible to use. You can organize your work hours with an effective way through Grindstone.
WebWork is a time tracking and employee monitoring software. It provides the simplest way to measure productivity. It calculates time spent on each task and the total working time.
The features of WebWork is automatic time tracking, screenshots, activity level tracking, online reports, invoices, manual time entry, apps and website monitoring, billable hours tracking etc. It provides 5 user types like an owner, executive manager, project manager, employee and client for each team. The reports are more comprehensive with 3 types. They are contracted report, project report and user report. You can get your report in daily, weekly and monthly basis.
Overall it is a great professional tool for your desktop platform.
Pricing: It costs $2.99 per user per month. You can start a free trial.
Toggl is a popular cloud-based time tracking app. Toggl windows version is very native with proper features. It is very useful for team management. It has more than 100 integrations that give you the flexibility to use it with another service you need.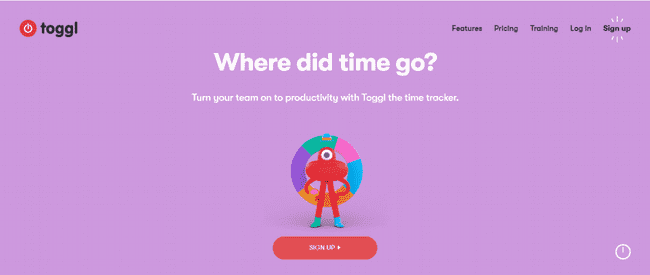 It has a free version which covers all the basic functionalities like timers, tracking reminders, manual time entries, dashboard, billable hours tracking and team management. The advanced version is paid with advanced features like team dashboards, email tracking reminders, required field entries for team, tasks and scheduled alerts.
Toggl is a little bit expensive. The more members in a team the more costs to pay. The free version has very limited features.
Pricing: Custom pricing for enterprise; Starter $9 per user per month; Premium $18 per user per month.
TimeLive](https://www.livetecs.com/)
TimeLive is an easy-to-use, flexible professional time tracker. The simple configuration and set up system makes it popular among the individual and small business enterprise.
It offers free data migration service, project costing, time, billing and DCAA configuration, configurable notifications, time and expense tracking and customizable reporting. The user interface is very handy. It has project management tools.
The price is very decent and smart. It has very diversity in the price range that helps you to choose your proper plan according to your demand.
Pricing: The starting price is of $3 per user per month. It also offers a free trial for 30 days.
Time Doctor is also a time tracker and employee monitoring software. It offers productivity tool by monitoring the website usage, keyboard and mouse activity, task and project time. It is best suited for big teams.
The time tracking features of Time Doctor provides automatic time capture, employee database, billing and invoicing, multiple billing rates, offline time tracking and overtime calculation and so on. The employee monitoring features offer activity monitoring, browsing history, keystroke recording and screen activity recording. It is also used for employee scheduling.
Pricing: It has a flat pricing system of $9.99 per user per month irrespective of the number of the person in a team.
Harvest supports to regulate insights regarding productivity and time management. It not only tracks time and expense but also helps in the project and team management.
One of the best features of the harvest is a one-click entry. You can pursue your hours in your system with a start/stop timer. It has a daily timer and weekly timesheet. With the weekly timesheet, you can calculate the billable and non-billable hours with multiple billing rates. The team management goes one step ahead by working all the members in one platform. You can edit, review and approve the timesheet of your team.
Pricing It is free forever for one person with two projects. For unlimited projects, it costs $12 per month per person.
Which time tracker do you choose for your use?
I have represented some of the best trackers for your convenience. You decide to choose any of them. Before choosing one, think about the cost and services. All the apps have some similar features. But the difference is that some may provide the same service at a higher rate, some may have complex functionality.
Considering all the aspects, I will recommend Apploye that I am personally using. You will love to add it to your bucket list because of its simplicity, adaptability and affordability.
Don't forget to inform us which app you like to use and share your experience with us.